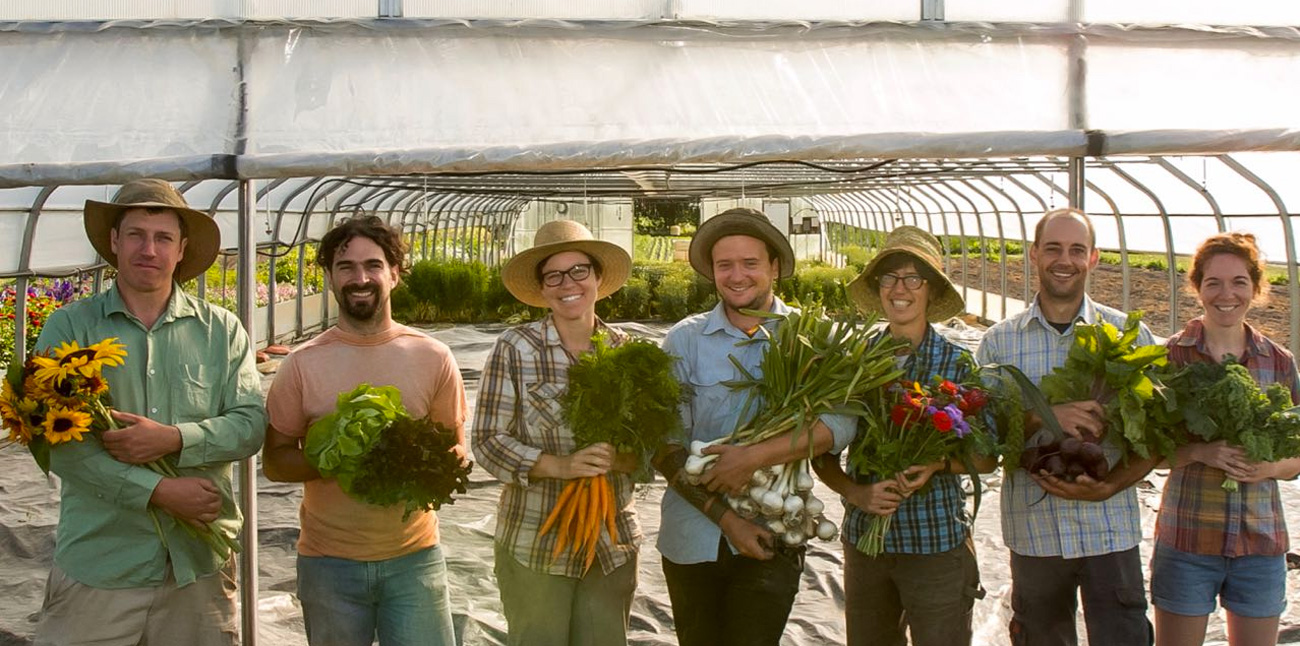 By Kenzie Love
When Tourne-Sol started out in 2005, it was blazing something of a trail. There were few co-operative farms in Canada at the time, and 15 years later they remain quite rare. But Dan Brisebois, one of the co-op's five founding members, has no regrets about the route its members took.
"When you look at the success over time, I think that having a broader decision-making group just makes better decisions that are more thought out and less prone to problems, and less spontaneous off the cuff decisions that you might regret later," he says. "So I don't regret it. That's not to say it's always easy. But then business isn't always easy."
Indeed, before Tourne-Sol got off the ground, there was debate among its founders about whether making a profit off their business would even be possible, let alone easy. The founders, all graduates of the agriculture program at McGill University's MacDonald campus, simply set out wanting to have a garden and make some money while they were at it, not envisioning the scale to which their business would grow. 
While the business has grown, both by adding two more members to the founding five and expanding to include an organic seed sales operation, cofounder Frédéric Thériault believes it's done so in a measured way. By vesting power in a group rather one or two individuals, the co-op has minimized expensive equipment purchases while prioritizing quality of life and working conditions for its members, 
"Running a business like ours with five directors, who are all the founding members is a lot less stressful and difficult and heavy a burden than it is to run a similar business with a more traditional model," says Thériault.
Although Thériault has found that Tourne-Sol's members make higher salaries than employees of other farms of similar size, he believes this might be about factors unique to Tourne-Sol and not necessarily the result of it being a co-op. But the relationships he's built with the other members are definitely due to the co-op model. 
"I think that our work is rewarding," he says. "I like the friendships that I've built with all my coworkers."
One of the most important investments a co-op can make, Thériault  believes, is in its people, which is why Tourne-Sol's members have participated in training on non-violent communication and holistic business management, two techniques whose guiding principles still apply to much of its work. Regarding other investments, the co-op has a long-term goal of switching to electric vehicles, including tractors, for its operations, and also wants to continue developing the seed component of its business. 
The co-op's continued growth is a source of satisfaction for Brisebois. But particularly satisfying for him is the fact that the success took more than a rake, a hoe, and a piece of fertile ground — it was the product of people willing to endure a difficult but ultimately worthwhile process to get there.
"It's really satisfying to have built up this business that is bigger than I'd ever have envisioned something I would do," he says. "But I think if you were to narrow it down to the co-op part, the most rewarding thing is when we have seemingly irreconcilable differences and we work through something, and wind up with something that meets everybody's needs and expectations far better than their original perception."