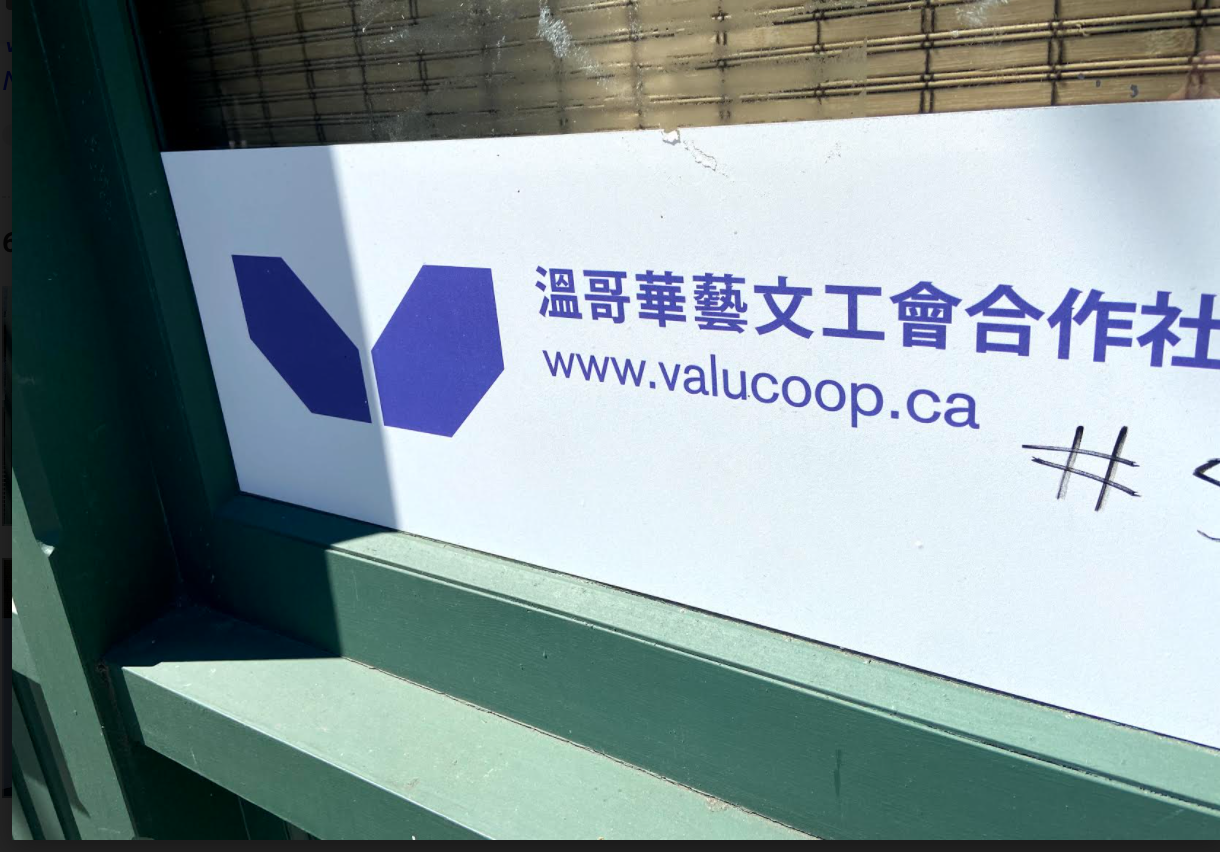 By Kenzie Love
Precarious, low-paying work has long been a feature of employment in the arts sector. A group of Vancouver artists, however, wanted to change that, so they founded VALU (Vancouver Artists Labour Union) Co-op, a unionized worker co-op intended to provide stable income for its members. 
VALU's members were also motivated by a desire to support their community, the residents and businesses in Vancouver's Chinatown where their studio is located. In keeping with this philosophy, VALU operates according to a no-profits, no-kickbacks model, with all surpluses going either to employing artists or to the Community Projects Working Group, which engages in collaborative projects that serve the surrounding community.
"We started off the organization really thinking about what are the values that we wanted to organize on," says David Ng, one of VALU's founding members. "So we spent a lot of time thinking about how to make our social justice values actionable, and how we do it in a way that's accountable to the communities we're a part of."
VALU's Community Projects Working Group is currently in the process of digitizing the archives of Chinatown's Lim Association, a nonprofit whose historic building houses VALU's studio. Ng says the archive project, called Engaging Chinatown, has been one of the most rewarding aspects of VALU's existence so far, as it's allowed the Co-op to both provide a service to the community and also benefit from the increased interest in worker co-ops this has spurred.
"It's kind of working in two ways," he says. "The actual work of the Co-op has allowed us to do some of these community projects, and then our work with the community projects has allowed us to also increase the conversations around worker co-ops."
Learning about the worker co-op model has also been an eye-opening experience for some of VALU's newer members, such as Marissa Desandoli. Desandoli had limited knowledge of worker co-ops before joining VALU, but has since come to appreciate the model's collaborative and egalitarian nature.
"Something that I have learned is looking out for each other as a team and everything that you do is for the people you work with," she says, "and being run democratically and non-hierarchically has taught me to be responsible for myself and to be accountable, which I think is really important. And I definitely consider my coworkers more than I have in other jobs."
The Co-op has faced its share of challenges, among them the disruption caused by the pandemic, which struck not long after VALU's founding. Although the Co-op's print studio was designed to produce material for large-scale events, most of which the pandemic has halted, Ng says the loss of these opportunities hasn't proven an insurmountable obstacle. In fact, it has illustrated that while precarious work may be a common part of the artist's experience, it is far from an inevitable part, especially when the guiding values remain at the forefront.  The Co-op's statement of values is here.  
"When we started at the beginning of Covid, those opportunities disappeared very quickly," he says. "But the fact we made it to today and are breaking even demonstrates the resilience and solidarity that our partners have offered to us. We were founded, I believe, on really strong social justice values. So we work with our partners who share common goals in terms of social justice. So I think the fact we are doing quite well is a testament to the allies in our community who've forged partnerships with us to do this work together."