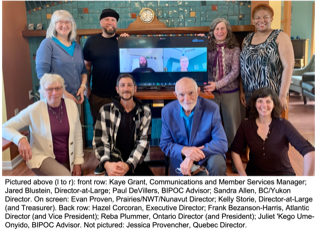 STAFF
Ven
Drake
Information Technology Assistant
Meet Ven Drake, a hands-on and curious Full Stack Software Engineer with a passion for contributing to the ever-changing technology landscape. They are excited to provide IT support at CWCF, following their term with ethical digital, where they honed their skills in data, programming, software development, and leadership.
Ven's journey in the digital economy began with the Autism CanTech Program at Norquest College, and they built upon their knowledge through SAS certification and education from SAIT. Their proficiency in data-related skills, including gathering, analysis, tidying, and storytelling, combined with their commitment to security, makes them well-equipped to excel in the position.
4039702756
home
InfoTech@canadianworker.coop
INTERNET
Janielle
Maxwell
Project Coordinator – JUSTICE, EQUITY, DIVERSITY, DECOLONIZATION AND INCLUSION (JEDDI) SOCIAL ACQUISITION PROJECT
Janielle is a passionate advocate for racial empowerment, equity, and the socio-economic progress of marginalized groups. She has been serving as the Project Coordinator for the Canadian Worker Co-op Federation's JEDDI Business Conversion Project since September 2022, and is also a Master's candidate; pursuing her degree with a focus on BIPOC farmers and small-scale agriculture. Her exposure to the co-op sector began during the completion of her MSc, where farmer co-ops were often referenced in an international agricultural framework as a means of navigating challenges in traditional agri-food chains.
Janielle is excited about the collective power we can create and sustain for Equity-Denied Groups, through a co-op/ Social Purpose Organization sector that is centered on equity, decolonization, and inclusion.
jedi-sa@canadianworker.coop
INTERNET
Aniqah
Rahman
Project Intern – JUSTICE, EQUITY, DIVERSITY, DECOLONIZATION AND INCLUSION (JEDDI) SOCIAL ACQUISITION PROJECT
Aniqah Rahman is CWCF's JEDDI Intern, supported by the CreateAction youth employment program. Based in Toronto, Aniqah is an artist, program facilitator, and researcher. The common thread that connects these endeavours are a curiosity and appreciation for the ways in which people shape and communicate their experiences; asserting their personhood despite suppression through oppression, pain, and subjugation. Aniqah is brought to their role at the CWCF by the desire to see equity denied groups challenge normative ideas around what constitutes community and construct something that betters serves them.
Aniqah@canadianworker.coop
INTERNET
Chloe
Williams
Executive Assistant / Adjointe administrative
Based in Montreal, Chloë Williams joined the CWCF team in August 2023 as the Executive Assistant. She first got involved with the co-operative sector as a worker-member and co-founder of the Hive Cafe Solidarity Co-operative at a student-run multi stakeholder co-op at Concordia University, where she is currently an active board member. She recently completed a Masters of Business Management, Co-operatives and Credit Unions out of Saint Mary's University where she developed a passion for co-operative conversions as a means of succession planning. Chloë is excited by the opportunity to continue to grow her knowledge of the co-op sector while working with worker co-ops across Canada.
Josh
Dyke
Common Good Capital Program Administrator/ Administrateur, programme REER
Based in Kentville, Nova Scotia, Josh Dyke has served as CWCF's Common Good Capital Program Administrator since 2016, a position that has grown since he began the job to include more hours and interaction with investors. Josh had little knowledge of worker co-operatives before starting with CWCF, but has come to learn more about them through his work with the federation, including a course on co-op governance he took through CoopZone.
Josh likes working for CWCF because it's good to its employees and responsive to employee needs. He also appreciates the values CWCF holds and how it tries to promote these through services such as the RRSP Program.
902-678-1683
work
josh@canadianworker.coop
INTERNET
Laura
MacDonald
Common Good Capital Program Assistant / Adjointe, programme REER (On leave)
Based in Kentville,  Laura MacDonald has served as CWCF's Common Good Capital Program Assistant since 2019.  When she's not working at CWCF, Laura owns and operates Deep Hollow Print, a letterpress printing and graphic design studio in the Annapolis Valley in Nova Scotia. Laura has been running Deep Hollow Print for over 5 years now, and has won two East Coast Music Awards for her design work in the music industry. 
Laura has a Bachelor of Arts Degree in English from the University of Wisconsin, as well as a Certificate in Book Publishing/Editing from Humber College in Toronto. 
902-678-1683
work
assist-rrsp@canadianworker.coop
INTERNET
Lindsay
Reid
Common Good Capital Program Assistant / Adjointe, programme REER
Lindsay Reid grew up in a small town in the Niagara Region of southern Ontario. 
She studied political science at The University of Western Ontario and graduated with a BA in  Labour Studies from Brock University.  
She and her partner Adam have resided in the Annapolis Valley since  January 2007.  
In 2010 they bought a small house with a big yard for their dog and chickens, and lots of gardening  in the summer. They welcomed their son Milo in 2011.  
In 2010 Lindsay opened a small café in Wolfville with a friend, which they ran successfully for twelve years, and was one of the best experiences of her life.
902-678-1683
work
assist-rrsp2@canadianworker.coop
INTERNET
BOARD OF DIRECTORS
Reba
Plummer
Ontario Director (and President) / Administratrice, l'Ontario, et Présidente. Board of Directors
Based in Toronto, Reba Plummer has served on CWCFs board since 2010, and as board President since 2016. The Co-executive Director of Toronto's Urbane Cyclist, Reba started out as the proprietor of her own bike shop before joining Urbane in 2000. She attended her first CWCF conference in 2006, and has been present at every one since. She is currently on the board of The Co-operators, having been nominated by CWCF, and previously served as the Greater Toronto Area Co-op Network Regional Manager for the Ontario Co-operative Association.
Having been a sole proprietor, Reba appreciates the shared responsibility that comes with belonging to a worker co-op. She finds that the co-op's members have particularly demonstrated their commitment during the Covid-19 pandemic and stepped up to meet the challenges arising from it. She believes that Urbane's members are committed to living out the co-op values in their work, seeking to create fair and equitable employment for all.
Reba believes a lack of understanding within the wider community remains a challenge for worker co-ops, and hopes to make them better understood. She would also like to grow CWCFs membership, and to ensure it has more resources available to support the creation of or conversion to worker co-ops.
(416) 979-9733
work
Jessica
Provencher
QUEBEC DIRECTOR / ADMINISTRATRICE ET VICE PRESIDENTE
Jessica Provencher has served on CWCF's board since 2011. She got her introduction to worker co-ops as a bartender at La Barberie, a microbrewery in Quebec City. During her time there, she spent six years as head of co-operative life, representing the co-op at conferences and on various boards. She is currently on the board of The Co-operators, having been nominated by CWCF.
Serving on the board has allowed Jessica to learn more about worker co-ops in the rest of Canada, and to bring her experience from the Quebec sector to CWCF. She believes she's benefited from building relationships with members of the worker co-op sector who share common values in spite of geographical separation, and learning that there were more people committed to worker co-ops in Canada than she believed.
"That gave me faith and confidence that there were a lot of people in Canada and throughout the world that wanted this model to be more dynamic and more well-known," she says. "So I think how I've benefited the most is it kept me motivated to work in worker co-ops and to help and support them to be viable."
Jessica believes in the worker co-op model because it empowers workers in both their work lives and other areas, and thus helps create stronger communities.
581-995-3495
work
Kelly
Storie
Director-at-Large (and Treasurer)/Administratrice sans région et Trésorière
Kelly Storie of La Siembra was acclaimed as a director-at-large for CWCF at its AGM in November, 2021 She believes now is an opportune time to serve in this position, as Canada's worker co-op movement is well-positioned to seize hold of the growing interest in democratizing the workplace.
"I feel like a lot of work has been done by the leadership of CWCF, and the board of CWCF, to really bring the worker co-op movement to the forefront of that," she says. "And with my many years of experience in governance and co-operative governance in particular, I just felt like this could be a good time for me to invest and contribute back to the movement that has been so supportive of La Siembra over its 22 years as a worker co-op."
Kelly first began working for La Siembra in 2010. She has appreciated the supportive role membership in CWCF has played for the Co-op during its history, both in terms of technical support and in the friendships and knowledge the Co-op has gained from belonging to the wider community. Her prior experience with co-op governance includes terms as a board member for Your Credit Union of Ottawa where she chaired the Audit Committee, and the Ontario Co-op Association, and she currently serves on the board of Equal Exchange.
613-235-6122
home
kelly@camino.ca
INTERNET
Jared
Blustein
Director-at-Large /Administrateur sans région
Jared is passionate about creating equitable and just societies. After completing a graduate degree in Vancouver in 2017, investigating contemporary economic issues and potential solutions, he cofounded The Allium Restaurant and Bodega Worker Cooperative (The Allium). Jared believes that by empowering workers and making them the directors of produced profits, we actively create more resilient and localized economies, and more ethical societies. Moreover, the non-hierarchical and consensus-based model of many worker co-ops directly help to co-humanize and empower those involved, and develop community cohesion with dynamic ripple effects. In the spirit of allyship, Jared is continually working to help other workers establish their own cooperatives. In addition to co-operating The Allium, Jared is also a manager at the Arusha Centre Society, a non-profit organization that works on a variety of social, economic and environmental issues in Calgary.
Leslie
Brown
Atlantic Region Director
Leslie Brown is Professor Emerita in the Sociology Department , Mount Saint Vincent University, Halifax where her work has involved teaching, research, policy analysis, and knowledge dissemination.  She credits her doctoral thesis on "New Wave" retail food co-operatives with launching her on a career studying co-ops and co-operation, in Canada and abroad.  Research methodologies that prioritize collaboration with community-based groups and organizations have proven particularly fruitful in studying the role co-operatives can play in building community, democratizing the economy, providing vital services, and offering concrete examples toward a vision of a more inclusive, equitable, and sustainable society.
As a volunteer, Leslie has served in leadership positions in community planning projects, credit unions, and various types of co-ops.  Since 2020 she has been member-at- large on the board of Flourish Community Development Co-operative, a consulting co-operative.  As a new board member of the CWCF Leslie says "I am excited to have the opportunity to work with Board members, staff and CWCF members who are committed to supporting worker co-operatives across the country.  There is no doubt in my mind that worker co-operatives have a vital part to play in helping us imagine, and build, a better world."
Juliet
'
Kego Ume-Onyido
BIPOC Board Advisor
Juliet 'Kego Ume-Onyido, MBA, is a co-founder of Black Women Professional Worker Cooperative. She is a Strategist & Visionary of F.L.O.W initiative: Financial Literacy & Opportunities for Women, a syndicated, invite-only series of experiential sessions, retreats and podcasts for women leaders, professionals and entrepreneurs. Her other activities and accomplishments include:
Co-Founder, Whole WoMan Network and i.S.E.R.V.E.2050 social enterprises; Nwanyibuife for women/youths, with a mission to raise up a new generation of Transformational, Ethical & Creative African Leaders.
Founder, POETRY4Change & SEED4Her/SEED4Him Leadership Initiatives for African Youths.
Passionate social justice advocate for Gender Equity, Quality Public School Education, Financial Literacy & Empowerment programs, especially in the delivery of certification trainings, seminars and workshops on Self-leadership, Transformational Leadership, Community Development & Wealth creation.
Dynamic Speaker and Trainer on Social Enterprise, Transformational Leadership and results-based Coaching, with a focus on empowering rural women to build sustainable and resilient cooperatives and communities.
Strategic Interventionist, delivering Experiential workshops for Women Professionals and Entrepreneurs on Work-Life Choices, and how to achieve Excellence & Success in the New Empathy-Driven, Data-Value-Based Economy. Author of upcoming books: "UN-Locking Your HeArt of Leadership"; Collections of Short Stories and Poems: "Conversations With An Amichi GrandMother" & "Today, I Will Not Bow." She is a Sun Life Financial advisor.
Chris
Nichols
BC / Yukon Director / Administrateur pour la C.-B./ Yukon
Chris Nichols is co-founder and general manager of Wood Shop Worker's Co-op, a furniture and millwork co-op operating out of Vancouver, BC. With a Masters in Social and Political Thought and over 10 years carpentry experience, he likes to get his hands dirty, both literally and figuratively. He lives in East Vancouver in a co-owned house with his wife and two-year old son.
(778) 899-5353
work
Nasreen
Omar
BIPOC Board Advisor
Nasreen Omar is the Chair of the Multicultural Health Brokers Co-op in Edmonton.  She migrated to Canada 47 years ago. She has been with the Co-op for the last 25 years.  She retired as a Multicultural Program Coordinator from Alberta Health Services (University of Alberta Hospital) after 20 years of service.
She has a B.A. in Sociology and Master's in Library Science.  In both her jobs, Alberta Health Services and Multicultural Health Brokers Co-op, she has been a master trainer of Intercultural Competency. She has an extensive experience in community education. She does a Punjabi radio program, South Asian Men's, and Women's support group. She also does community education in parenting in two cultures and general health. She is an active educator of the worker co-op at the MCHB. She researches, designs and delivers workshops to relevant conferences.
Evan
Proven
Prairies, NWT and Nunavut Director / Administrateur pour les Prairies, les T.N.O. et Nunavut
Evan Proven has served on CWCF's board since 2019. A co-founder and longtime board member of Sun Certified, Evan has worked in the construction field for his entire career starting in concrete and moving on to wood framing, cabinet making, and super insulated renovation and new home construction. 
Evan achieved his Red Seal Endorsement in Carpentry in June of 2017, and is currently a Masters Candidate for the Management in Co-operatives and Credit Unions program at Saint Mary's University in Halifax. A married father of two and stepfather of two, Evan's hobbies include beekeeping, gardening, cooking, snowboarding, sailing, and fixing things. 
A strong believer in Co-op Principle 6 (co-operation between co-ops), Evan believes Sun Certified has benefited from the networking opportunities membership in CWCF has offered, and wants to continue fostering these as a board member.  Although he's a firm believer in worker co-ops, Evan is aware of the challenges the movement faces, something he's experienced both as a member of Sun Certified and witnessed elsewhere. But he's hopeful that promoting the benefits of worker co-ops will succeed in growing the organization's membership and increasing the movement's diversity.
"I just personally believe co-operatives are a way better model of running a business and potentially running an economy," he says.
204-772-7438
work
Board of 
Board of