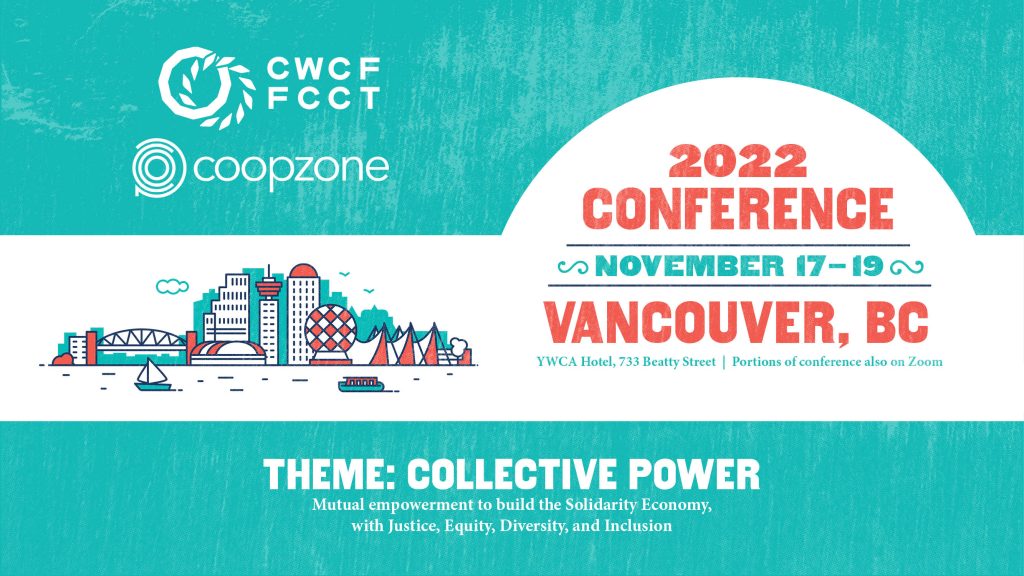 COLLECTIVE POWER:
Mutual Empowerment to Build the Solidarity Economy
with Justice, Equity, Diversity, and Inclusion
#CWCF-CZ2022
---
November 17th – 19th, 2022
Online & in-person in Vancouver, BC
---
Please join CWCF for the return to an in-person Conference in 2022!
Free Virtual registration available for select Workshops and the CWCF AGM on Friday, November 18th.

The 2022 theme of "Collective Power" seeks to bring focus to what workplace democracy and the Solidarity Economy have to offer to equity-seeking groups, with a focus on BIPOC communities.
This theme builds on the work of CWCF's Justice, Equity, Diversity & Inclusion (JEDDI) Committee, and our Racial Justice Action Plan.
To build Collective Power in worker co-ops, practical tools are needed. Training session themes include strategic planning, available grants, and accountability for collective well-being.  In terms of growing the movement, sessions of interest include building co-op ecosystems, government relations, and collaborations with trade unions.
There will be a CWCF strategic planning feedback session and as always, great opportunities to network and build solidarity with other worker co-operators and co-op developers!
---
---
---