Business Conversions to Social Purpose Organizations for Equity-Denied Groups
Pre-Conference info session
"Collective Power" Conference
November 16-19, 2022
Vancouver, BC
Equity-Denied Groups (EDGs) Includes: women, persons with disabilities, BIPOC and other racialized groups, members of the LGBTQ2S+ community, and youth.
Daphane Nelson, CoActive Developments Canada
Daphane opened this session with a land acknowledgement, which showed respect for the unceded traditional territory of the Coast Salish people. She expressed her appreciation of the landscape and introduced herself in the Coast Salish language.
Her first main point touched on Social Innovation (SI) and Social Finance (SF) in Canada, and emphasized the need to expand our view on Social Enterprises (SEs); from not only a means to improve quality of life, but also for economic gain. The work of the Legacy Leadership Lab (L3) was presented as the foundation for education on business conversions, to help remedy Canada's small-business succession dilemma. She defined and discussed the term business conversions- including its different types and its potential to bolster the Canadian economy.
Juliet 'Kego Ume-Onyido, Black Women Professional Worker Co-op (BWPWC)
Juliet shared her insights on the importance of integrating more EDGs in the business conversion/ social acquisition (SA) process from the perspective of the existing BWPWC, and the perspective of a business in the process of converting to a non-share co-operative, the Whole Woman Network.
Juliet highlighted that a strong affinity between BIPOC/other racialized peoples and the solidarity economy has always existed; given that it is the model these groups pursued in order to build robust economic systems for their survival. She also made connections between these themes and the Indigenous idea of "Atautsikut" which means "leaving none behind" in Inuktitut. As such, we discovered that the concept our solidarity economy seeks to return to, was born out of the many economic models that Black, Indigenous, and other racialized communities have embraced from generation to generation.
Mohammed Zaquot, LightWork Consulting Co-op
The theme of integration of EDGs in the Social Acquisition space was continued with a presentation from Mohammed Zaqout. Mohammed is co-director of LightWork consulting co-op, a former Palestinian refugee camp resident, and founder of a web design for refugee skills development. His insights expanded on the integration of EDGs in the Social Acquisition space, with a focus on the re-structuring of workplaces to better foster justice, decolonization, equity, etc. He expanded on the need to build a Solidarity Economy dedicated to friendship and mutual aid.
Conclusion
Lastly, Daphane Nelson concluded the presentation in sharing why individuals should consider converting their business to a SE. She highlighted that business succession should not merely be viewed as a financial necessity, but also as a means to connect existing business owners to those who have been systematically denied equity. This creates lasting social impact by building on values of supplier diversity, accessibility, democracy, worker-based decision making, cultural/ recreational advocacy, and policy services.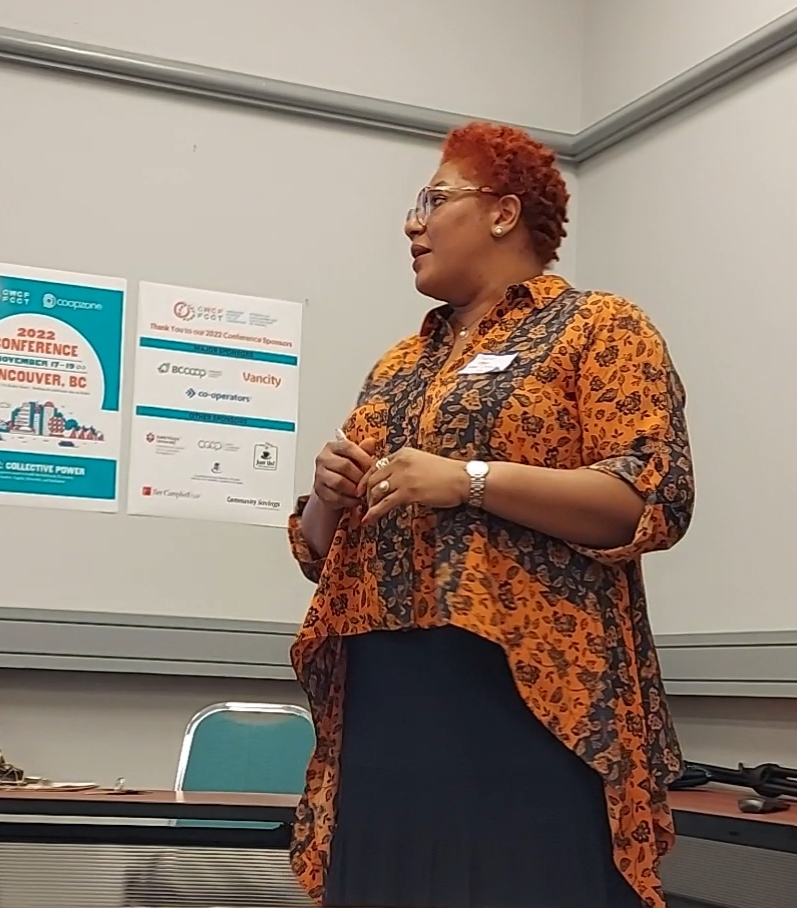 Find out:
What is a Social Purpose Organization? 
What are some examples of business conversions/social acquisitions? 
How does a business conversion work?
---