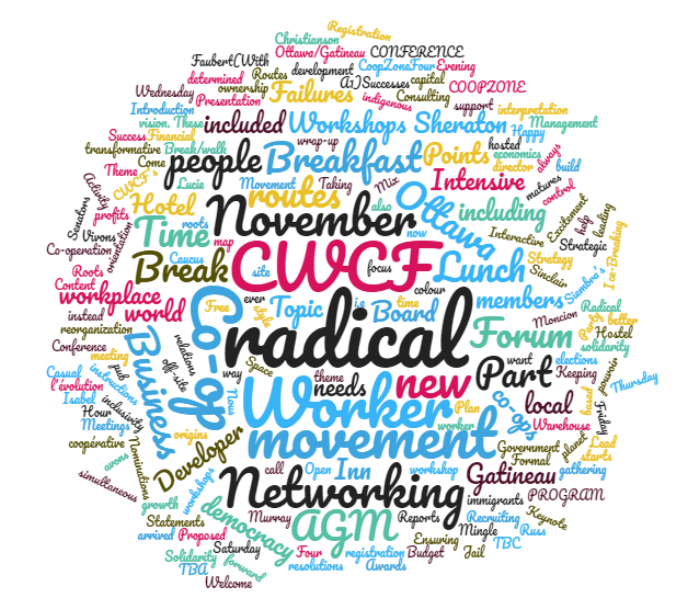 2017 CWCF – COOPZONE CONFERENCE
Ottawa/Gatineau, November 2-4, 2017
Thanks to all who attended. Powerpoint presentations from the conference are now available here. Read the Conference newsletter here.
Business Inn, Ottawa / Four Points Sheraton Hotel, Gatineau
Theme: 
Radical Roots/Radical Routes of Worker Co-operation
Nous avons le pouvoir. Vivons l'évolution coopérative!
The movement for workplace democracy has always had a radical, transformative vision. These radical 
roots also call us to new radical routes, i.e., what is our way forward as a movement of solidarity 
economics based on ownership and control instead of capital? The world needs workplace democracy 
now more than ever; it needs people and planet before profits. Come to our Conference to help us map 
out these radical routes, to build this new and better world.
We are thrilled to welcome two Senators as co-keynote speakers, 
Senator Lucie Moncion
, a committed life-long co-operator and Past President of Co-operatives and Mutuals Canada; and 
Senator Murray Sinclair
, who chaired the Truth and Reconciliation Commission.
November 2: 
1)  Worker Co-op Management Intensive, at the Business Inn, Ottawa,
Worker Co-op Management Intensive Agenda
OR
2) Co-op Developer Intensive Day, designed by the CoopZone Board for Co-op Developers, at Four Points Sheraton, Gatineau.
November 3 & 4

: Main Conference Program.
Materials for AGM
Click on below link to access the agenda, financials, budget, board bios, etc.
Acknowledgements
The CWCF and CoopZone would like to sincerely thank the following for their financial support of the 2017 conference.
Major Sponsors

 Sponsors: Worker Co-op Management Intensive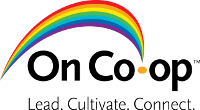 Other Sponsors