D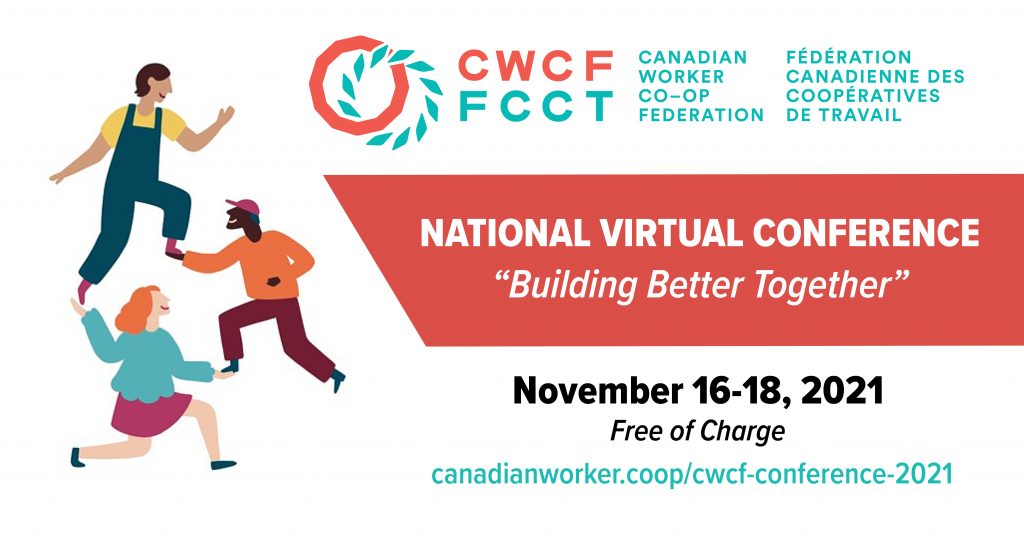 NATIONAL VIRTUAL CONFERENCE 
Theme: Building Better Together / Mieux construire ensemble
November 16-18, 2021
Free of Charge 
It's often said that worker co-ops are more resilient than traditional businesses, and the strength they've shown amidst the significant challenges arising from the pandemic is a perfect illustration of this. Come to this year's Conference to learn about the strategies worker co-ops have employed to deal with crises, the ways in which communities would benefit from building more worker co-ops, (including through the lens of racial and economic justice), and practical tips to help the sector continue to build better together.
The Conference newsletter is available here.
Slides from some of the Conference presentations are available below:
Building Anti-Racism in Worker Co-ops – Susanna Redekop
London Brewing – Local, Organic, Co-operative Marketing
Co-operators – Alexandra Wilson
CCIF – Financing That Works for Co-operatives – Julia Vlad
CICOPA speaking notes – Francesca Zaganelli
Building Organizational Capacity for Racial Equity – Dr. Lucenia Ortiz
Financing Worker Co-ops – Shares & Bonds – Brian Iler 

Videos from Conference sessions that are available are listed below:
Ignite presentation: Oasis Lavenders Co-op (forming), Summerland, BC
Ignite presentation: Massage and Holistic Co-op (forming), Calgary
Worker Co-op Financing Workshop
Worker Co-op Marketing Workshop
Building on Anti-Racism in Worker Co-ops
2021 CWCF Awards presentations
The CWCF 2021 AGM documents can be found here.
You may also download the full program here. 
The English registration link is available here. 
This conference will feature simultaneous English-French interpretation.
Key Presenters: 



Esteban Kelly, Executive Director, USFWC, Philadelphia

Colin MacDougall, Sustainability Solutions Group WC, Ottawa

Susanna Redekop, Local Food and Farms Co-op Network and Master's student, Toronto 

Lucenia Ortiz, Multicultural Health Brokers Co-op, Edmonton

Bernard Ndour, MCE Conseils & CWCF Fund Investment Committee, Montreal

Kelly Storie, Executive Director, La Siembra Co-op, Ottawa

MP Matthew Green, speaking on Tuesday Nov 16 evening
Click here for facilitator and presenter bios.
Key Sessions:
A keynote panel that will explore the impact of COVID on the worker co-op sector at home and abroad, and the strategies worker co-ops have used to survive and thrive in the face of the pandemic.

Peer learning sessions that will cover benefits that worker co-ops can provide, attracting talent to the sector, and engaging members in co-op governance.

A session hosted by members of CWCF's JEDDI Committee to share practical tools to build real diversity, inclusion, and racial justice in the worker co-op movement.

The CWCF AGM, a chance to both exercise democracy and celebrate this year's award winners.

A workshop on successful financing, including what financiers are looking for and what financing tools are available.

A workshop that will share how to market the worker co-op advantage.