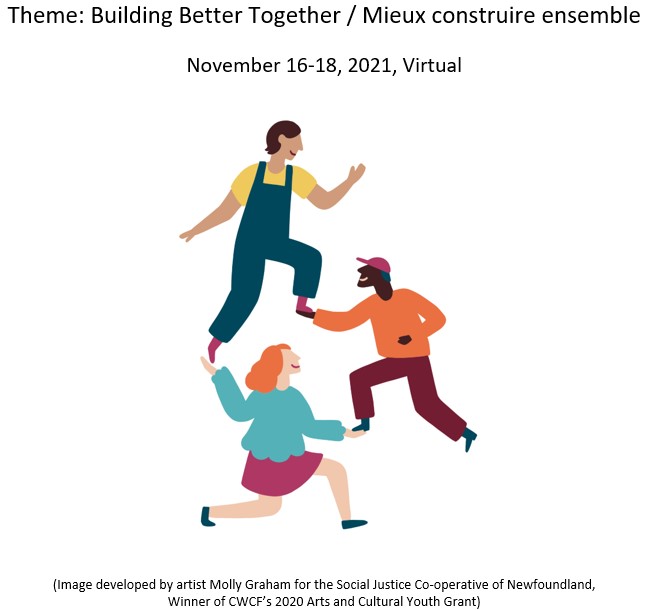 Worker co-operatives have demonstrated resilience and solidarity throughout the Covid19 pandemic, although many have faced significant challenges.  We will share particular strategies of worker co-ops in dealing with crises such as the pandemic. Further, this theme will cover how communities would benefit from building more worker co-operatives, including through the lens of racial and economic justice.  As always, there will be sessions on topics of practical interest for worker co-operators. 
The draft program below provides an outline of the program.  You may also download the full draft program here. (Note that as more details are available an updated program draft will be posted.)
The English registration link is available here. 
This conference will feature simultaneous English-French interpretation.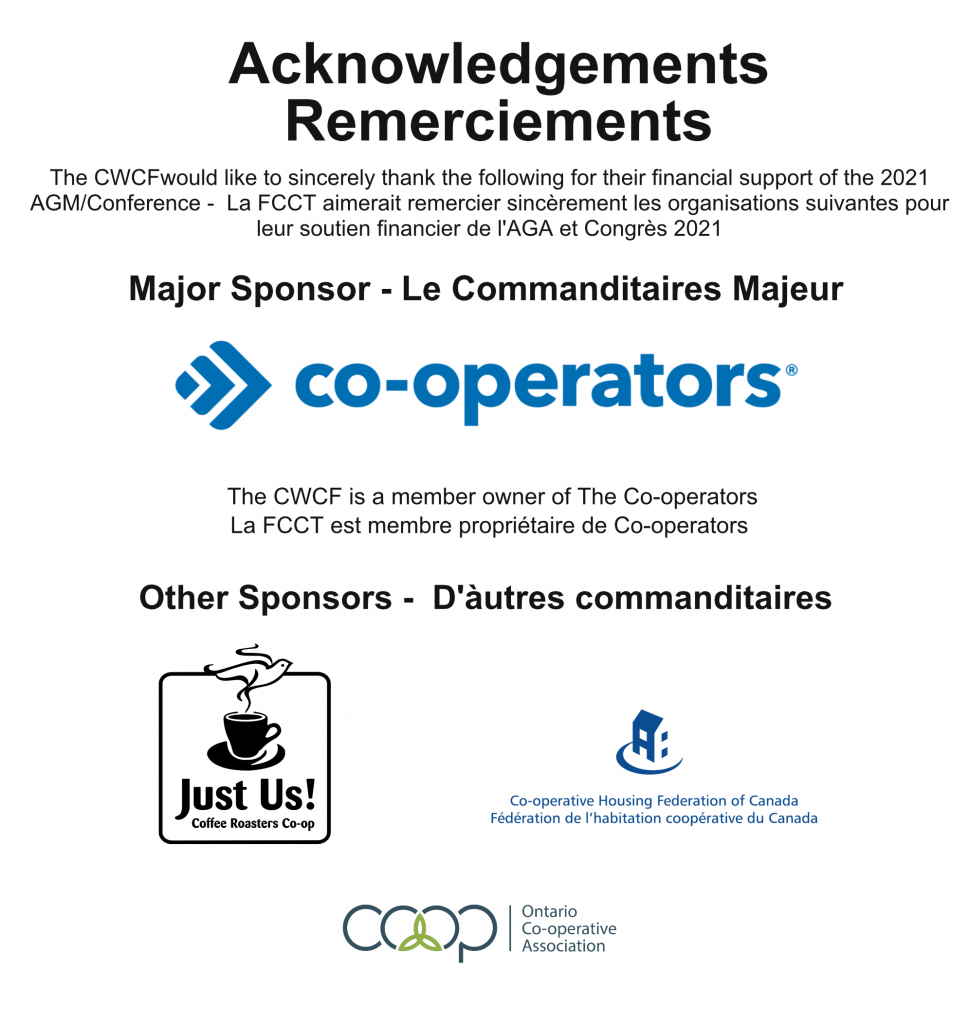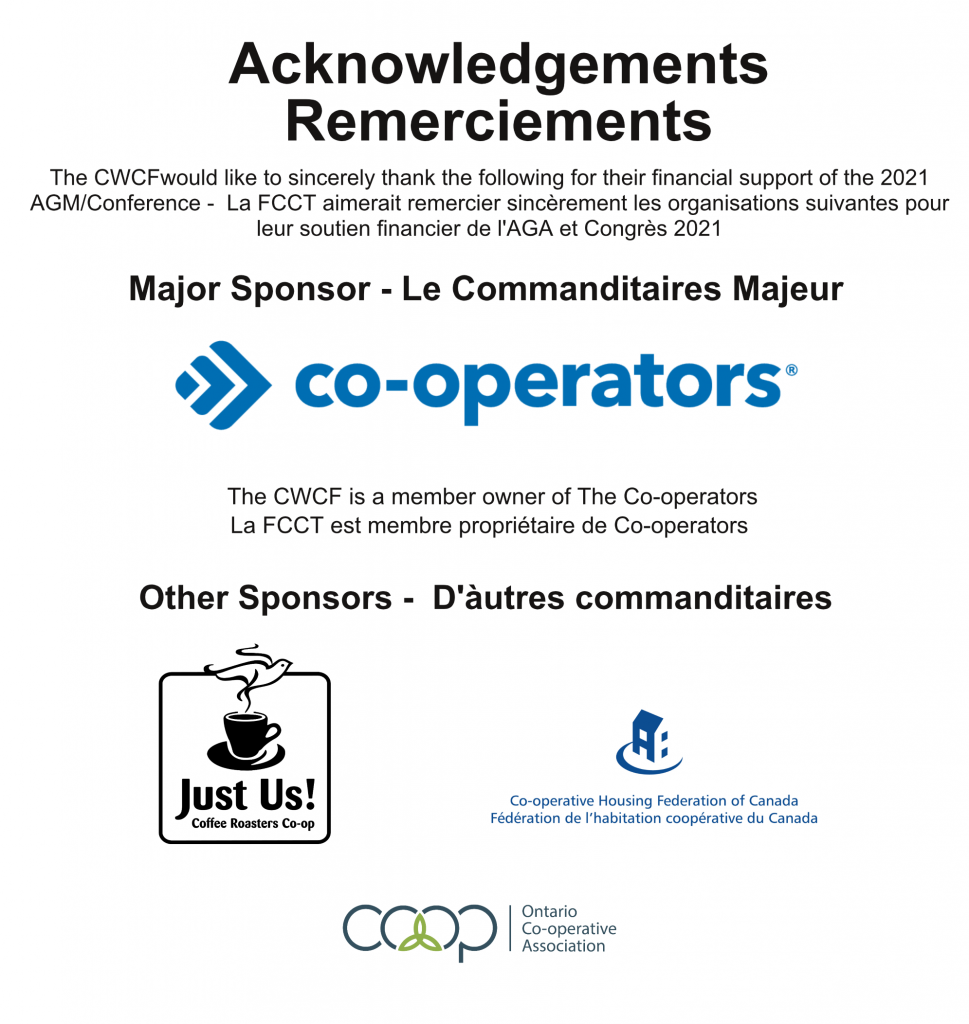 Time (ET)

11:30 am

Ice Breaker (or networking social connections)

12:00 (noon)

to 1:30 pm

Welcome and Land Acknowledgement/ housekeeping, from CWCF, by Reba Plummer, Urbane Cyclist, CWCF Board President, Toronto

Keynote Panel: 

Global view of what the effect of COVID has been on the Worker Co-op Sector.  What's the big picture?  What strategies have Worker Co-ops used to survive and thrive in the face of the pandemic? 

And:   How can Worker Co-ops show the way? 

Worker Co-op models to building better together:  Challenges and opportunities

2:30 to 4:00 pm
A peer learning session facilitated with break-out rooms on the following topics:

Ignite presentations by Worker Co-op Academy groups:  

Benefits that worker co-ops can provide.
How to attract talent to our sector.  How can we grow if we can't attract talent?  What does your co-op do to attract workers? 

How to get members engaged in the governance of the co-op / training on co-op governance

(There will be some discussion on the focus of Pandemic experiences and learnings regarding the above topics)

Evening 7:00-8:30 pm

CoopZone Developers Network session, re: Co-op Conversions.
Time (ET)

Wednesday, November 17, 2021 

12:00 (noon) 

to 1:30 pm

Building on anti-racism in worker co-ops: practical tools to build real diversity, inclusion, and racial justice (being planned by the Justice, Equity, Diversity and Inclusion ("JEDI") Committee as part of their action plan)  

2:30 to 4:00 pm 

Annual General Meeting

CWCF AGM Part 1: Reports 

CWCF AGM Part 2: Financial Statements and Budget

CWCF AGM Part 3: Elections and Resolutions

Award Presentations: 

Worker Co-op Merit Award – presented to Eric Tusz-King
Worker Co-op Best Practices Award – presented to London Brewing Co-op 

6 – 7:30 pm 
Freedom Dreams Education Co-op Workshop.

Nourishing Belonging: Forging Co-operation in Food and Farming.

When resources were scarce, BIPOC folks worked the land together in a spirit of abundance. In our third workshop,

Afri-Can FoodBasket

founder and farmer Anan Lololi joins us for a look at how co-ops offer a sustainable approach for small-scale food and farm businesses.  (Registration is at

this link

.) 
Time (ET)

12:00 (noon) 

to 1:30 pm

Worker Co-op Financing Workshop:

Successful financing: What are financiers looking for?  What are some financing tools that are available?  

2:30 to 4:00 pm

Worker Co-op Marketing Workshop:

Marketing/visibility – including marketing the Worker Co-op advantage