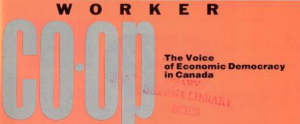 Beginning in late 1980 with a few simple pages, Worker Co-ops magazine (edited by Jack Quarter, of the Ontario Institute for Studies in Education at the University of Toronto) quickly became a regularly produced news and information source for the burgeoning Canadian worker co-op movement. The content grew from a mere 5 pages in the first issue to well over 40 later in the decade, with production quality increasing as subscriptions joined on.  In-depth articles on current events, updates from around the country, international news, op eds, book reviews – – the newsletter (eventually called magazine) gave a glimpse into the worker co-op movement, with an approach that was both pragmatic and visionary. For a time in the early 1990s, the newsletter was produced bilingually, with English and French pages inverted for easier reading and the additional title of Magazine Coop de Travail. Publication of Worker Co-ops came to an end in 1992 shortly after the Canadian Worker Cooperative Federation (CWCF) formalized as the trade association for worker co-ops in Canada.
To mark the 25th anniversary of the last Worker Co-ops issue, a full set has been digitized and for a limited time is now available for download. Those interested in the history of the worker co-op movement will find the collection fascinating, perhaps humorous, and in some cases still relevant to ongoing debates. Canadians aren't the only ones who will find this archival content useful – news from around the world was regularly featured, especially the United States. No national equivalent of the magazine existed for US worker co-ops during the years of publication, so the collection is uniquely helpful to those interested in US worker co-op history. Although no comprehensive index exists for the newsletters, the files are text searchable.
CWCF wishes to express its deep appreciation to co-op historian Tom Pierson for digitizing the collection. CWCF is now in a position to widely distribute the newsletter archive through its website. The lion's share of the newsletter collection used for this project were from the files of Ian MacPherson (1939-2013), eminent Canadian co-op researcher and educator. The archiving effort is dedicated by Tom Pierson to the memory of Frank Adams (1934-2017), a lifelong movement organizer, a founder of the US Federation of Worker Cooperatives, and a contributing editor to several issues of Worker Co-ops.
Winter 1991
Fall 1991
Fall 1990
Summer 1990
Spring 1990
Winter 1990
Fall 1989
Summer 1989
Spring 1989
Winter 1989
Fall 1988
Summer 1988
Spring 1988
Winter 1988
Fall 1987
Summer 1987
Spring 1987
Winter 1987
Fall 1986
Summer 1986
Spring 1986
Dec 1985
Fall 1985
Summer 1985
Spring 1985
Winter 1985
Fall 1984
Summer 1984
Spring 1984
Winter 1984
Autumn 1983
June 1983
March 1983
Dec 1982
Sept 1982
Feb 1982
Sept 1981
June 1981
Jan 1981
Nov 1980