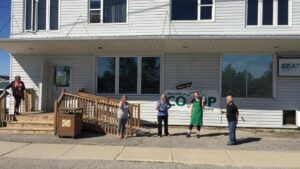 Co-op Moonbeam underwent a conversion from a for-profit sole proprietorship organization to a food co-operative grocery store. Located in the Francophone community of Moonbeam, Ontario, L'épicerie co-op was a community's collective response to potential food insecurity in their region of Northern Ontario.
Many remote Canadian communities face declining populations, which makes it difficult to preserve essential businesses. So, when the owner of the only grocery store in Moonbeam decided he would close his doors unless he found a suitable buyer by August 2012, residents of Moonbeam decided to unite in pursuing the consumer co-operative model for the continuation of this crucial store.
This successful conversion is a great source of inspiration to other Canadian communities that risk the loss of essential privately-owned establishments. This transition positively impacted the community by:
Maintaining the sole local grocery store, which the community considered a key economic and social institution

During the COVID-19 pandemic, residents in high risk groups did not need to travel outside of their community for groceries

Community members were empowered to prevent food insecurity and local economic decline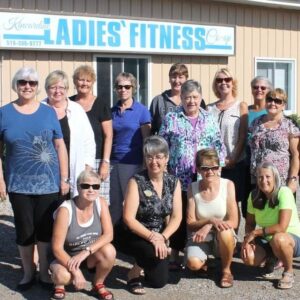 This fitness co-op converted from a for-profit sole proprietorship to a consumer owned co-operative. In 2013, the local Curves Fitness franchise was sold to a new owner who threatened to permanently close the business. The gym members (many retired or nearing retirement) were troubled by the idea of no longer having a place to gather, exercise, and pursue their health journeys. Thus, they decided to band together to take over the business.
They pursued the business-to-cooperative conversion model and successfully acquired the franchise, later renaming it to Kincardine Ladies Fitness. The conversion has benefited the community by preserving not only the establishment, but also the friendship and interaction between community members.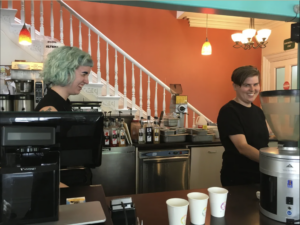 GlitterBean Café Co-operative is a previously sole-proprietorship organization that converted to a worker-owned co-operative. For the LGBTQ2S+ community in Halifax, Nova Scotia the potential closure of this café was terrible news. As one of only two Queer spaces in the city, its closure would signify a huge loss to the community; especially since the only other Queer establishment was a bar where of course, those underaged are not welcome. If not for the baristas' efforts in uniting to own the cafe through the co-operative model, a valuable space that contributed to the legacy of the Queer community in Halifax, would have been lost.
This worker co-op represents more than just the preservation of employees' jobs, but also highlights the protection of a meaningful shared space for an oppressed community. GlitterBean Café is a strong example of a worker co-op with a social mission as it provides a safe space for members of the LGBTQ2S+ community and has provided an alternative to working in a company where employees previously faced a poor working environment and difficulty in attaining fair wages.
EDG: women, youth, LGBTQ2S+
 Based in Victoria, BC, for residents of Victoria, The Makehouse is a local sewing paradise where amateurs and experts alike come together and bond over one of the world's most ancient and popular hobbies. The Makehouse is owned by 4 cis-identifying women and 1 gay male. A woman-owned organization, it converted from a business to a worker co-operative, and serves everyone including youth, people with disabilities, and queer individuals–a great example of a socially impactful worker co-operative.
Offering various types of fabric, notions, embroidery, sewing patterns, and felting and cross stitch kits, The Makehouse is a one- stop shop for the community's sewing needs. The co-operative also offers private lessons, workshops, parties for special bookings, and booked "Open Studio" time for those who wish to come in and sew with others. This company caters to all age groups within the community by offering after- school lessons to children, workshops aimed at 'tweens' and teens (12+), and workshops for adults (16+).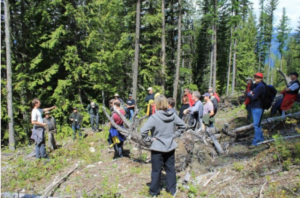 Harrop-Procter Community Co-operative (HPCC) converted from a business to a community co-operative (another form of a Social Enterprise), in order to increase collective autonomy over the resources in their community.
The Harrop-Procter Community Forest Co-operative manages 11,300 hectares of Crown Land and runs a sawmill in Harrop, from which they sustainably produce lumber items such as: fence boards, timber, wood decking, paneling etc. This organization's practices are eco-system based, with a mandate to practice environmentally progressive forestry which protects watersheds and provides sustainable jobs for community members. Eco-system based planning helps ensure a fully functioning forest remains after logging occurs.
As a co-operative with a clear environmental mission, HCPP is a true example of a SE. It has benefited the community by:
Giving residents more control of the surrounding forests such that they can manage it with a more long term view

Providing local jobs by and for the community (via sawmill work)

Providing organized stewardship of the land via sustainable forestry and watershed management

Improving local knowledge and organizing capacity for the community's economic and environmental goals
Find out:
What is a Social Purpose Organization?
How does a business conversion work?       
---