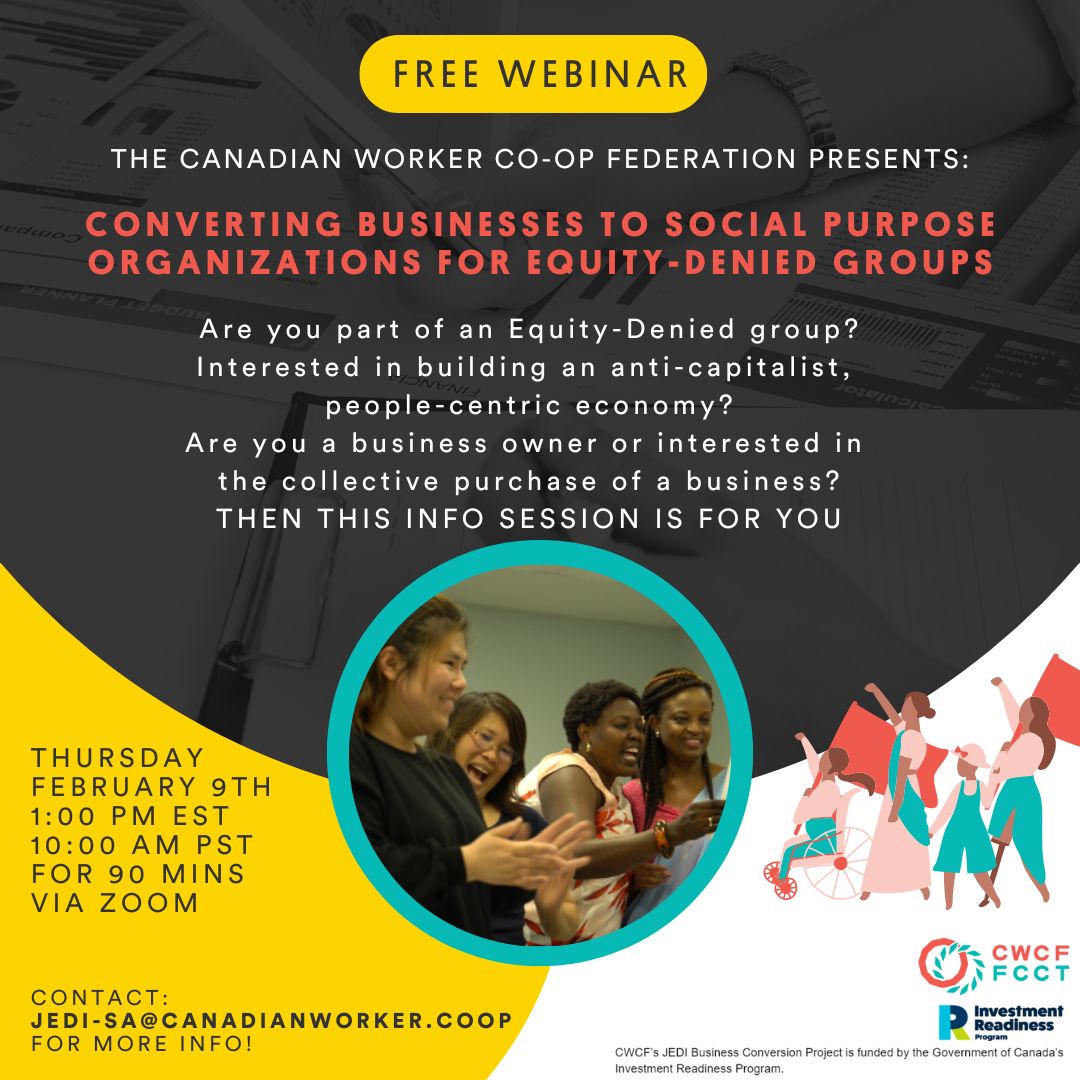 Converting Businesses to Social Purpose Organizations for Equity-Denied Groups
Date :  Thursday February 9th, 2023
Time: 1pm EST/ 10am PST, for 90 minutes
Where: Zoom platform
Cost: Free!
Description: 
This webinar targets members of equity-denied groups ("EDGs", including women, BIPOC communities, persons with disabilities, members of the LGBTQ2+ community, and youth) who are interested in the business conversion process. The session will provide participants with background information on the context and types of Social Purpose Organizations (SPOs) as well as explore the possibility that EDGs might feel alignment with the structure of SPOs, as they differ from traditional business models that have often underserved and under-represented them.  
We will also explore how transitioning to SPOs such as co-operatives, B-Corps, and Social Enterprises could be the right fit. There will be general discussion on how to transition to a SPO, the benefits of transitioning, sources of support, and how this model benefits and can appeal to EDGs. Additionally, we will hear from an existing SPO about their challenges and successes.  

Speakers
Daphane Nelson from CoActive Developments Worker Co-op will cover a variety of topics including the benefits of transitioning to a Social Purpose Organization, general steps on how to do so, and some examples of successful transitions.
Juliet 'Kego Ume- Onyido from Black Women Professional Worker Co-op will discuss the integration of more equity-denied groups (EDGs) into this process from the perspective of a Black, female operated worker co-op as well as from the perspective of an organization currently transitioning to a co-operative. She will touch on the history and affinity of racialized communities with the Social Enterprise and solidarity economics models from a socio-cultural, pre & post colonial, and economic lens. 
Mohammed Zaqout from LightWork Co-op (to be confirmed) will touch on the need to restructure workplaces in order to better promote values of equity, decolonization, justice etc. 
Background Information:
The small business succession challenge in Canada is well known, and often business owners and their communities struggle to manage ownership exits gracefully. When the owner of a business is ready to retire or sell, a timely succession is necessary for business survival.  
In addition, with the pandemic having affected nearly every small business across the country, more business owners than ever must make tough choices about the survival and sustainability of their enterprise. 
The challenges are even greater for businesses led by and/or serving equity-denied groups, as they often face issues of 'renoviction', lack of access to capital, etc. Yet there is also great potential, as these businesses that are essential parts of their local communities can be converted from their traditional structure to social purpose or co-operative enterprises to help continue their legacy. 
Social purpose organizations (SPOs) such as Co-ops, B-Corps and Social Enterprises (SEs) have different value systems embedded into their governance and therefore operations.  A SPO can be created when employees, communities, and/or other stakeholders buy the business collectively.  
 BIPOC = Black, Indigenous, and (other) People of Colour.