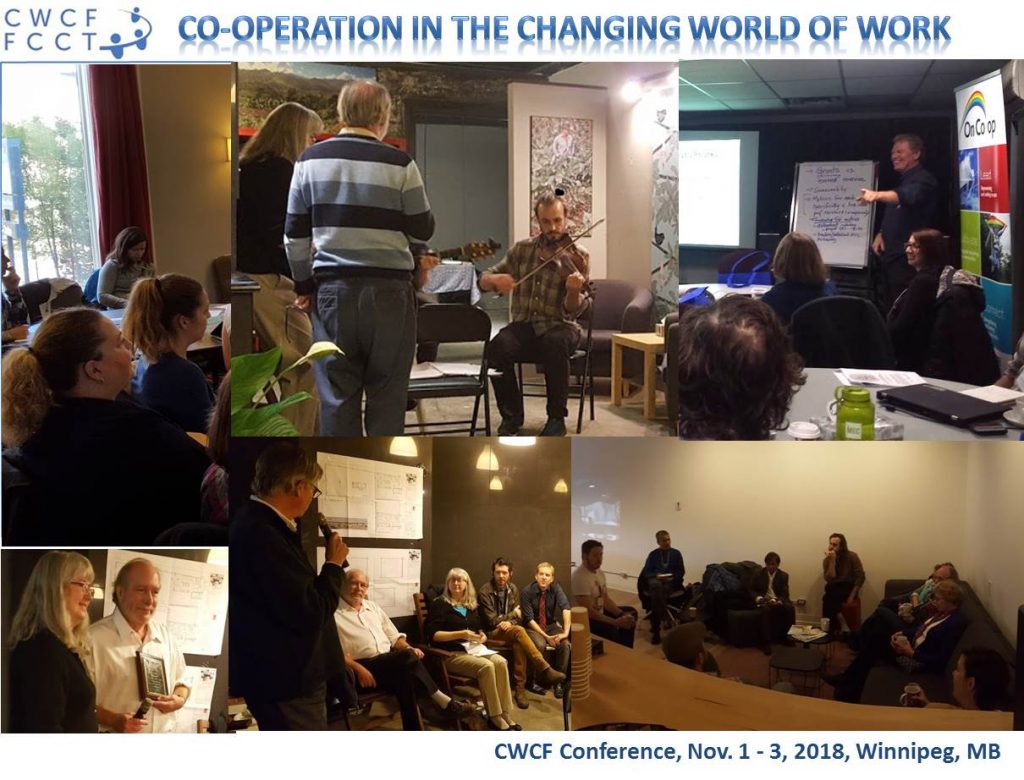 CONFERENCE of the Canadian Worker Co-op Federation and CoopZone
Theme: Co-operation in the Changing World of Work  
November 1 – 3, 2018, Winnipeg, Manitoba, Humphry Inn & Suites
Registration is now open. Click here to register Online registration ends on October 26, 2018.
The draft conference program can be found here
The Conference press release is available here.
Registration information is in this document:Registration Costs and Other Details CWCF-CZ 2018 Conference_fnl V2
Time
Wednesday,  October 31
5:00 pm at the Museum

6:00 to 9:00 pm at the Forks for dinner.

On your own

Casual Evening

The Canadian Museum for Human Rights has a $5 admission on Wednesday evenings, starting at 5 pm.   We suggest meeting at 5 at the entrance for those wishing to go together.

Suggestion to have a meet-up at The Common at The Forks  6pm to 9pm (closes at 9pm)  The Forks is a lovely, central meeting space, and The Common features locally owned food vendors including a social enterprise.
Time
Thursday, November 1
8:00 am

8:15 am

Breakfast on your own

Registration starts

9:00 am to 4:00 pm

All-day Management Intensives

Lunch on your own

 

Interested in the financial health of your co-operative? Dive into this full day intensive to increase your understanding of financial statements, build a financial health dashboard for your co-operative, and discuss real-world topics that worker co-operatives face.

With Russ Christianson

To include a presentation from The Co-operators.

CoopZone hosted Intensive day.

The following topics will be covered:

New Generation Co-ops with Pascal Billard, Co-founder and General Manager of SOL-AIR Consultants and Kristen Wittman, Taylor McCaffrey LLP
Where is Co-operative Developer Training Going in Canada? with Eric Tusz-King, Course Director, CoopZone Training Program, and Ben Prunty, Executive Director, CoopZone
An Exploration of Replication, Scale-Ability, and Ambitious Strategies for Movement Building with Ben Prunty, Executive Director, CoopZone

To include a presentation from The Co-operators

4:30 – 6:30 pm

On your own

Solidarity Happy Hour, location Carbone Coal Fired Pizza at 260 St. Mary Avenue / Alternative vegetarian/vegan Affinity Vegetarian Garden (opens at 5pm) at 100-208 Edmonton St.
6:30 to 8:30pm

Doors open / refreshments at 6:30 Program at 7:00

Evening  Keynote Presentation:  Millennium Library, Carol Shields Auditorium

(in partnership with MCA, CDEM, CCEDNet, Assiniboine Credit Union and SEED Winnipeg Inc.)
Friday,  November 2
8:00 am

8:15 am

Breakfast on your own

Registration starts

9:00 to 10:10 am
Welcome, from CWCF (Reba Plummer), CoopZone (Pascal Billard), Introduction to the Theme and Ice-Breaking Activity
10:10 to 10:30 am
Networking Break
10:30 am to 12:30 pm
Forum #1: CWCF's Strategic Plan: to Strengthen & Grow the Worker Co-op Movement, with clear action plan and implementation presented.  With Russ Christianson/Reba Plummer
12:30 to 1:15 pm
Lunch (included)
1:15 to 1:55 pm
Movement Break/walk
1:55 to 3:25 pm
Workshops:
A1) Member Peer Coaching:

Peer Coaching Groups using a highly focused process among 4-6 people who use coaching to help each other address real, current, important problems and opportunities.

Facilitated by Eric Tusz-King and Kaye Grant

A2) Co-operatives in Indigenous Communities, and the services of Cooperatives First.  By Trista Pewapisconias and Audra Krueger

A3) Canadian Co-operative Investment Fund (CCIF) and other ways to finance your worker co-op. With Bill Dinsdale, Sr. Community Account Manager at Assiniboine Credit Union, Christina Baker, Director of Community Lending for New Market Funds speaking about the  CCIF and Marty Frost with Human Ventures: Cooperative and Community-Based Business Development.

Facilitated by Peter Hough

3:25 to 3:45 pm
Networking Break
3:45 to 5:00 pm
CWCF AGM Part 1: Reports

CWCF AGM Part 2: Financial Statements and Budget

B2) Social Enterprise workshop, including collaboration / overlap with co-ops with Marty Donkervoort, Social Entrepreneur and University Instructor, Sarah Leeson-Klym, Manitoba Regional Director, CCEDNet and Carinna Rosales, Co-Director, SEED Winnipeg Inc.
6:15-10:30 pm
Mix and Mingle Networking Party hosted by Winnipeg Worker Co-ops, off-site at XCues Café and Lounge at 551 Sargent Avenue (transportation options will be provided).  Games and entertainment include: pool, shuffleboard, foosball, ping pong and possibly video/board game options.  There will be a button-making activity as well.
Saturday,  November 3
8:00 am

8:15 am

Breakfast on your own

Registration starts

9:00 to 9:30
CWCF AGM Part 3: Nominations, director elections and resolutions
9:30 to 9:50 am
Co-op Showcase:  Co-op Ignite session
9:50 to 10:10 am
Networking Break
10:10 to 11:10 am
Forum Topic #2:  The New Realities of Management – with focus on people – facilitated panel with co-ops (before lunch), & then have break-out groups after lunch.   Three table topics: 1) Worker Co-op organizational structure and decision making. What is the role of the Board, the management and the workers? 2) Performance Feedback: mechanisms for worker co-ops including peer-to-peer and inter-personal issues and 3) Remote working.

Facilitated by Omar Yaqub, Alif Partners Worker Co-op

11:10 am to 12:10 pm
Lunch (included) / Board reorganization meeting
12:10 to 2:10 pm
Forum Topic #2:  Continued
2:10 to 2:45 pm
Facilitated wrap-up
Confirmed Sponsors
Major Sponsors:
Other Sponsors: