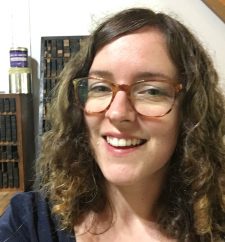 CWCF hired Laura MacDonald to work in our Kentville, Nova Scotia office as RRSP Program Assistant. She works mostly part-time on various RRSP transactions for this growing program, including data entry, account statement mail-outs, etc. The role is much busier, and closer to full-time during RRSP season when CWCF handles a high volume of RRSP transactions.
When she's not working at CWCF, Laura owns and operates Deep Hollow Print, a letterpress printing and graphic design studio in the Annapolis Valley in Nova Scotia. In her printshop attached to her home, she prints on a 1930s-era cylinder press using antique wood type and original carved linoblocks. She makes gig posters, art prints, cards, and other printed ephemera. Scheduling between Deep Hollow Print and CWCF works out well because Deep Hollow's busy period in the year corresponds to CWCF's quiet period in the RRSP program, and vice versa. Laura has been running Deep Hollow Print for over 5 years now, and has won two East Coast Music Awards for her design work in the music industry.

Laura has a Bachelor of Arts Degree in English from the University of Wisconsin, as well as a Certificate in Book Publishing/Editing from Humber College in Toronto.

Laura has a couple of cooperative connections: she lived in an international housing cooperative in Madison, Wisconsin for three years, and her grandfather PD MacDonald was involved in the Antigonish co-operative movement in the 1940s. He started one of the first Credit Unions in Nova Scotia, which he managed until the late 1970s. She's a big fan of the cooperative lifestyle and is proud to be working at CWCF!