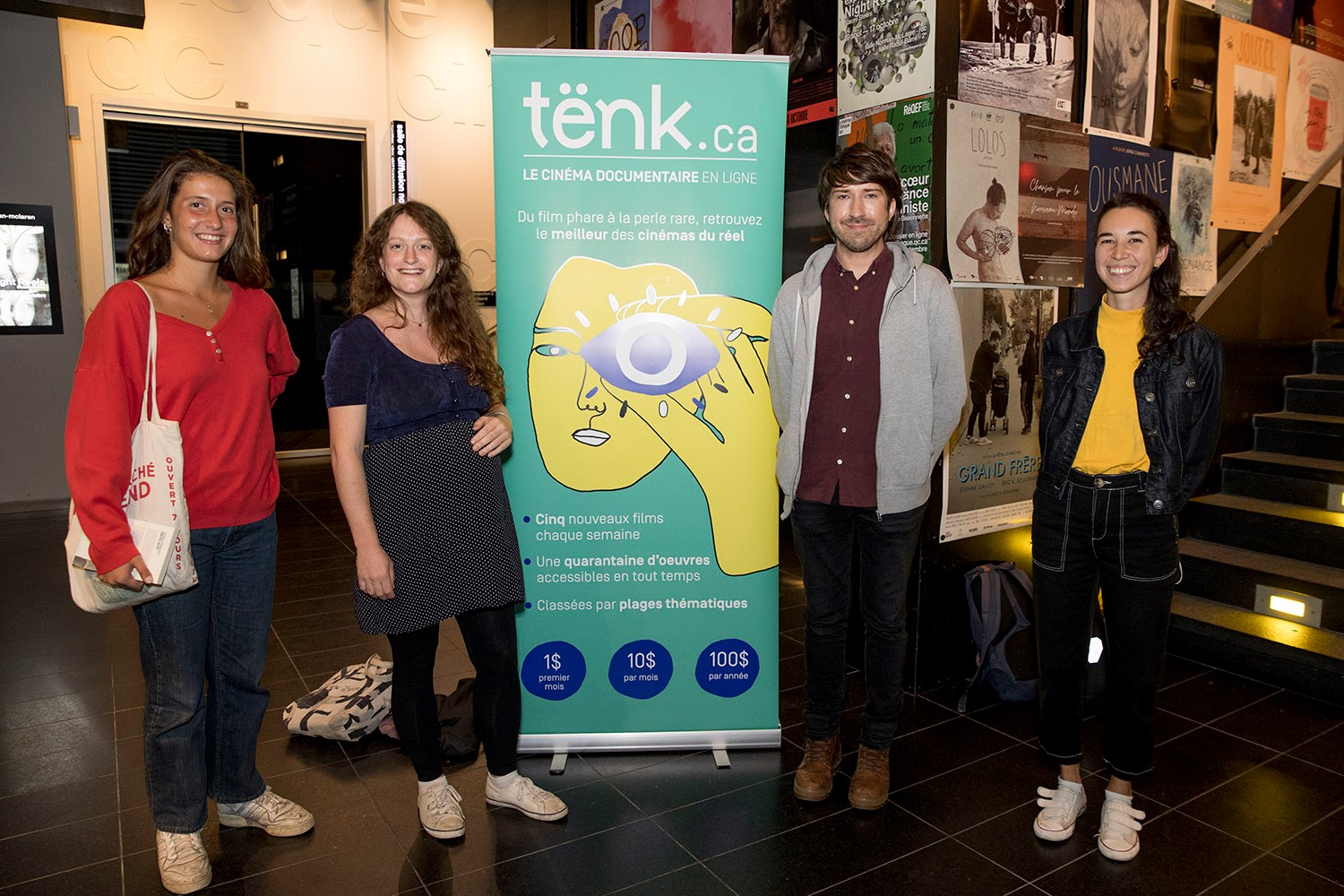 By Hannah Rackow
For coopérative Tënk in Montreal, bringing lesser-known documentaries to audiences across Canada is both a passion and a mission. Florence Lamothe, co-founder and general manager of the co-op, explains that "the documentary is a rather under-circulated, under-loved and under-financed medium and cinematographic genre these days." Tënk aims to address that gap by hosting and highlighting documentary films from around the world on their online platform.
Tënk was founded in 2019 after Lamothe and Naomie Décarie-Daigneault, Tënk's Artistic Director, returned from internships with Tënk France through the Office franco-québécois pour la jeunesse.  The French documentary film co-op dreamed of establishing a network of similar projects around the world, but required local partners, something which Lamothe and Décarie-Daigneault could offer in Quebec. The name "Tënk" — pronounced teh-nk or sometimes tun-k — is a West African word from the Wolof language, meaning "to state a thought clearly and concisely". The Quebec-based platform, modelled after the French one, hosts author-driven and independent documentaries for streaming anywhere in Canada, and Tënk in Quebec credits part of its success to its partnership with Tënk France. 
"We needed them at the financial level, because here in Quebec we never would have been able to get the subsidies necessary to maintain an online platform like this, since it's very expensive," says Lamothe, "and conversely, if we hadn't brought the model to Quebec with a Quebecois programming team, I don't think it would have been possible either […] I think the international collaboration between the two cooperatives is really pretty innovative."
Tënk is a solidarity (multi-stakeholder) co-op, employing a hybrid structure featuring both worker members and support members. The Co-op's roughly 14 support members include cultural organizations, cinematographers, and documentarians, among others. All types of members take part in the democratic decision-making at the heart of the organization. 
Jason Burnham, the co-op's Head of Editorial Content & Marketing, explains that "the goal is to have something pretty eclectic while also bringing together diverse actors, so that the platform can be invested with a common mission to serve all sectors related to documentaries." 
The diverse array of films available for streaming are chosen by a rotating group of curators, made up of professionals in the documentary industry – directors, filmmakers, critics, curators, and others – who are also cinephiles. The films are not limited to French and English selections, but include films from many countries and in many languages. Films range from a mere three minutes to almost four hours long. As Lamothe and Burnham point out, curatorial freedom is a core value. Unlike a film festival or brick-and-mortar theatre, their online platform allows them to house atypical films that otherwise might have a hard time finding a home, whether because of their length, format, or the era when they were made.
"We really do allow ourselves to play," she says.
Being an online streaming platform helped Tënk survive and even thrive during the pandemic, a time when most forms of entertainment went online. Their overarching mission, Lamothe explains, is to reach the broadest audience possible, and make documentary films available to folks who may not be in a metropolitan region and have less access to events such as film festivals. At the same time, they do want to connect with and meet their audiences, which the pandemic made more difficult. They've  managed to hold a few screenings in Montreal, including a recent screening with the Cinematheque Quebecoise as part of a series called "French Conversations". They have also worked in partnership with the Montreal International Film Festival.
The pandemic has also brought unexpected opportunities in the form of partnerships with various smaller film festivals. Tënk served as an online platform for three festivals last year that couldn't take place in person due to pandemic health measures. While it's not a central part of their mission, they felt that the opportunity to support the documentary film world in this way fit their values.
"This sort of thing didn't occur to us at the outset of the project," explains Burnham, "but it sort of happened organically on its own." 
Looking to the future, Tënk would like to be able to host more screenings outside of Montreal and other metropolitan centres. They're also planning to focus on extending their reach outside of Quebec to the rest of Canada. While their streaming services are currently available across Canada, their presence and outreach efforts have largely been within the province, which they hope to break out of in the coming years, perhaps through screenings or events with festivals or organizations in other provinces. 
They also  have a number of ideas for projects that are perhaps less strategic but close to their hearts; most notably, they would love to be able to have an institutional program for cegeps, universities, and colleges in Quebec. 
"The documentary," Lamothe suggests, "is an extremely important medium at the social level […Documentaries] address reality, current events, political subjects and intimate subjects in a totally different way than news or newspapers or other sources of information can do." 
Dreaming of partnering with cegeps, colleges and universities, for Tënk, is a matter of helping create a public that can engage with more complex, demanding media and ideas in the world.