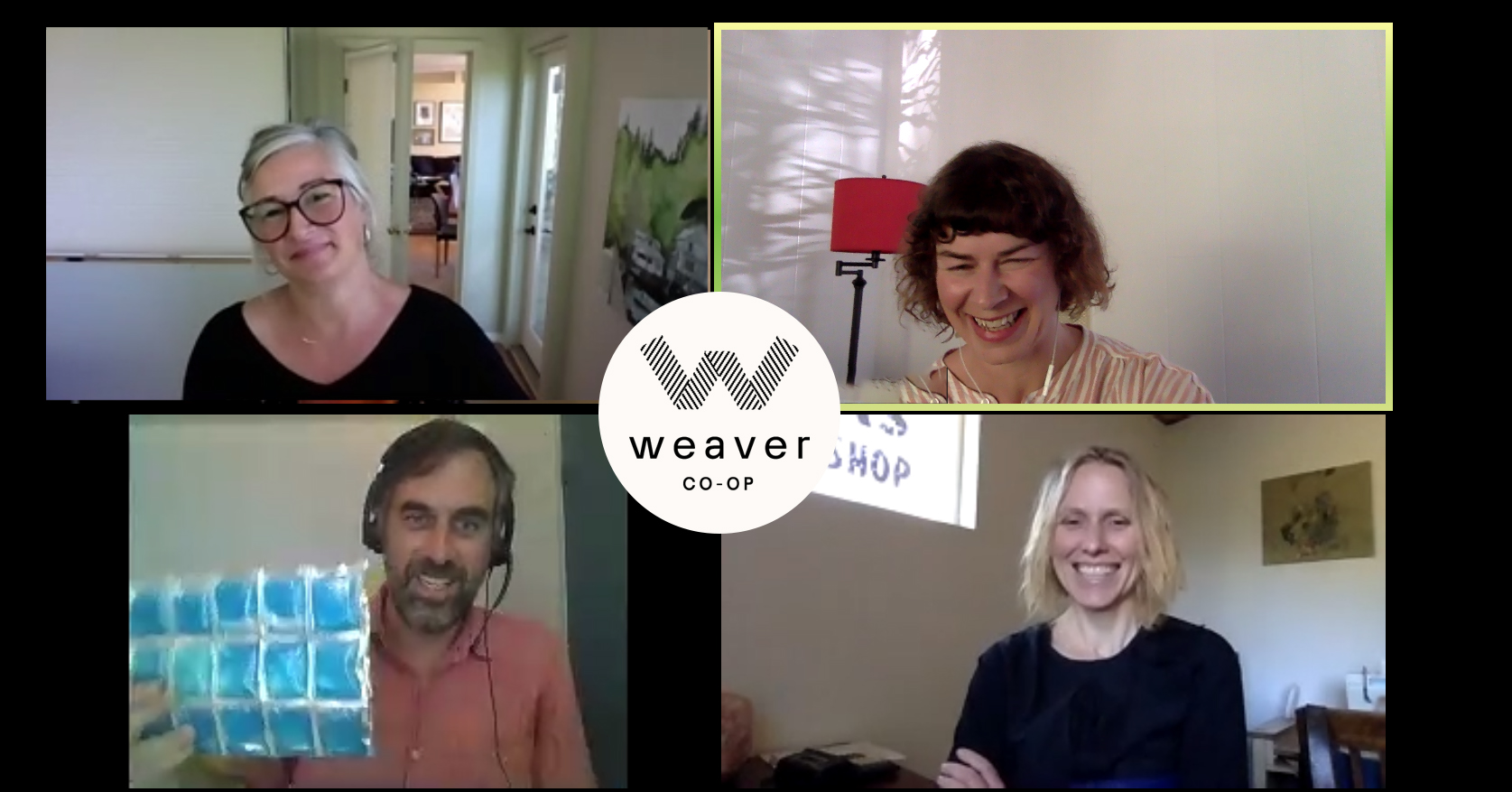 By Kenzie Love
For Vancouver Island-based worker co-op Weaver Digital Design & Storytelling, the year since its launch has been one to remember, with the impact of the pandemic offering both challenges and opportunities. Initial concerns about whether there would be enough work to go around were soon replaced by the realization that there might in fact be too much of it to help all the prospective clients who'd reached out to them. But motivated by a desire to help a variety of small businesses who share its values, the Co-op's four members have worked not just to create or redesign websites, but to tell stories with them as well.
"We're a website design firm," says Weaver's Aimée van Drimmelen, a UX designer. "But that goes beyond, 'www dot whatever com'. We also pay attention to the design of a business' branding, and all their different kinds of content. There's so many important parts to a website that go beyond the website itself. So that's why we describe ourselves as digital storytellers."
Weaver grew out of a casual conversation between van Drimmelen and content strategist Ceara Lornie, acquaintances who connected in 2019 about the possibility of working on a project together. They ultimately decided to form a worker co-op along with two others who they'd worked with over the years. Lornie and van Drimmelen agree that Weaver's members are still learning about the worker co-op model, which neither of them had much experience with prior to founding the Co-op, but that adopting it has offered many benefits. One of them is the guidance provided by the co-op principles.
"Those seven principles have really helped us reflect when we've had challenges," says Lornie, "If I'm not sure what approach to take , I can go in and look at those principles and consider, 'Well, if I've agreed to these guidelines in my work practice and I'm committed to the members, then that will lead me and help me make a good decision or be part of that good decision-making process—because we all have that equal say."
Although the pandemic has prevented Weaver's members from gathering in person, the ties that bind them have remained strong. The ability to work with a small but committed team has been one of the most rewarding aspects of Lornie's experience with the Co-op.
"It's so amazing to be able to have a trusted group of people that you can talk to about stuff," she says. "Or you can watch the way they work and say hey, I like the way you're doing that; I'm going to start doing that."
Weaver is just one of a large and increasing number of worker co-ops in IT (e.g., Hypha Co-op in Toronto, CanTrust Hosting Co-op in Vancouver, la Coopérative Coloc in Gatineau, Electric Embers in San Francisco, and the transnational Colab Co-op). But the unique way they've woven together their diverse talents, Weaver members believe, provides a model for others.
"I would encourage other people that are thinking of using this model that it really works for the types of services that we offer," says Lornie. "If you have creatives and tech people working together I think the co-operative model is a really good way to do it."