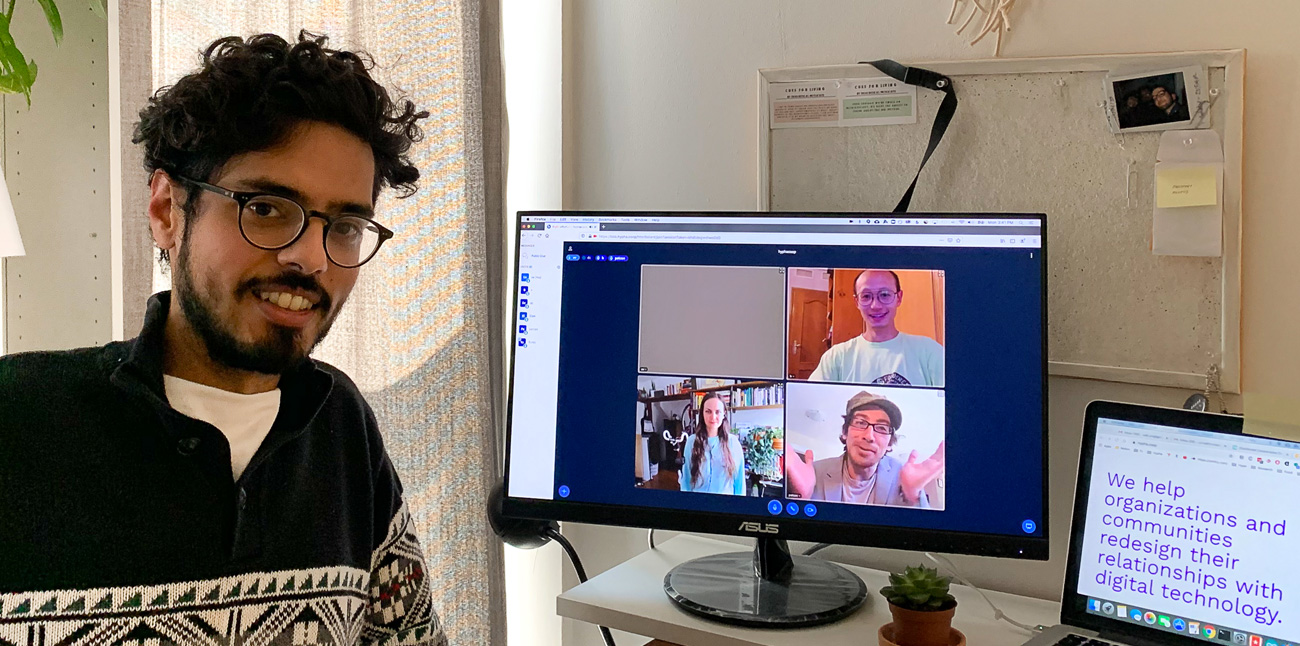 By Kenzie Love
When a group of tech professionals in Toronto decided they wanted to band together in late 2018 to create Hypha, the worker co-op model seemed like a natural fit. It was such a natural fit, in fact, that no one can pinpoint the precise moment when they decided to go that route.
"When we first started talking about it being a co-operative, it seemed so obvious to me that it was going to be a co-operative that everything just kind of fell into place," says Udit Vira, one of Hypha's seven members. 
"Everything fell into place with a lot of work," fellow member Dawn Walker clarifies.
But even if setting up Hypha wasn't a completely seamless process, its founders have no doubts that establishing themselves as a worker co-op was the right decision. Having past experience working in other corporate and non-profit environments, Walker and Vira have appreciated the greater support they've received from their worker co-op peers.
"People are willing to share and offer help that goes so much beyond anything I've seen outside of the co-operative sector," says Vira. "Having worked in traditional corporations as well, I think it's really refreshing to see that."
Hypha grew in part out of the Civic Tech Toronto community, a weekly meetup for Torontonians interested in addressing civic challenges with technology but are also interested in policy and community-making instead of being "tech-first". The co-op's members, who incorporated in August of 2019, wanted to continue fulfilling the values of this setting while also making a living, as many of the projects they'd collaborated on previously had been volunteer-based. So they set themselves up to provide three types of services: digital assistance and coaching, technology design and development, and infrastructure management.
In the period since their incorporation, Walker and Vira have found that many of the people they encounter are unfamiliar with the worker co-op model, although they agree this lack of awareness can make for a great conversation starter.
"It's a challenge," says Walker. "But all challenges are also opportunities."
Hypha's members, Walker acknowledges, are still learning about worker co-ops themselves. Their past experience in the tech sector, which some workers see as apolitical, is a contrast to the more values-driven nature of being a worker co-op.
"People are like 'what do you mean values, technology doesn't have values,'" says Walker, "and you're like 'no it does, trust me,' and if you want to have the right values we need to talk about them. Coming out of the tech space we don't talk enough about values."
Both Walker and Vira cite the importance of solidarity and mutual aid in their work, something that informed their decision to create and share their organizational handbook, a guide to the vision, processes, and culture of their co-operative.
" I think for people starting out that might be cool to see," says Walker. "Oh here's someone who's not much further along the process than us. That's always really helpful for me to learn."
Membership in CWCF, meanwhile, has helped with Hypha's own learning curve and also allowed them to feel connected to the movement on a more personal level.
"I think the biggest thing for me is it situates us in this bigger co-operative context in Canada, and I think that's really important to us," says Vira. "Feeling like we're part of a movement and part of this federation of like-minded communities."
But beyond its ties to other worker co-ops, Hypha believes in the concept of "neighbourliness" towards everyone it encounters. Looking ahead, its members want to continue to improve their livelihoods, but just as importantly, to improve their society as well.
"We want to work with other mission- or value-driven folks to build better relationships," says Walker. "It doesn't have to be the way it currently operates, platforms that have an extractive relationship with you and your data and stuff like that, so I think we're participating in those conversations, we want to be active in those spaces, but we also want I think to be active in building the solidarity economy."