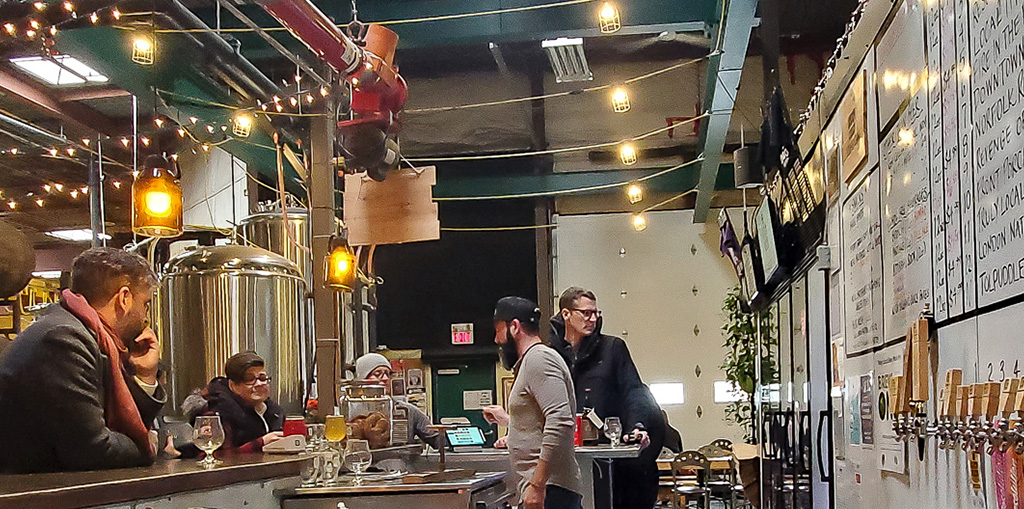 By Kenzie Love
For many breweries, fulfilling a goal of creating and selling great-tasting beer might be reason enough to celebrate. Not so, however, for London Brewing Co-operative. The first co-op brewery to open in Canada outside Quebec, London Brewing wanted people to enjoy its products, of course. But they also wanted to use organic and sustainable ingredients, have a democratic workplace, and operate with an eye on the triple (social, environmental, and financial) bottom line.

The strategy appears to have paid off. London Brewing Co-operative has been growing steadily the past few years, and the trend looks set to continue. The co-op moved into a more spacious location in 2017, offering it increased brewing capacity and the chance to open a taproom where customers can eat and drink in comfortable pub-style surroundings. In February of 2018, London Brewing received a $92,600 grant from a joint federal/provincial initiative to support agribusinesses. The co-op was also spotlighted in the recent film A New Economy, available on Netflix.

David Thuss, one of London Brewing's five founding members, says successes such as acquiring the resources to move locations have come not just from operating a business in accordance with the founders' values, but from aligning the brewery with values that also have broad public appeal.

"I think one of the greatest achievements was finding that resonance with family, friends and customers to what we were trying to achieve to being able to raise that capital with sort of a signal that we're doing things properly", he says.

One of London Brewing's key values has been a commitment to the surrounding community, which it demonstrates through actions such as using locally-grown, organic ingredients in its products. The co-op has also created processes that reduce the waste around brewing, and taken other environmentally-conscious measures such as using reclaimed materials in its building. And it strives for its taproom to be a place where members of the community can gather, not merely another means of making money.

"We really wanted to be community-centric and so we really focused on our taproom and are sort of our in-house experience and that's been really important to build that community aspect", says Thuss.

Being a co-op is also central to London Brewing's philosophy, although Thuss acknowledges it presents its own challenges. He cites a widespread lack of awareness surrounding co-ops, which manifests in both customers who don't understand the model and difficulties finding partners who share the founders' values. Thuss believes it's important for aspiring co-op developers to ask whether a co-op is the right model before getting started, and if they go ahead with one, to be constantly aware of how (or whether) their business is embodying the co-op principles. But challenges aside, says Thuss's fellow co-founder Aaron Lawrence, London Brewing remains committed to the co-op model.
"It's a deeply held belief by the founding members", he says, "that sharing in risk and reward will result in a more successful business in the long term".