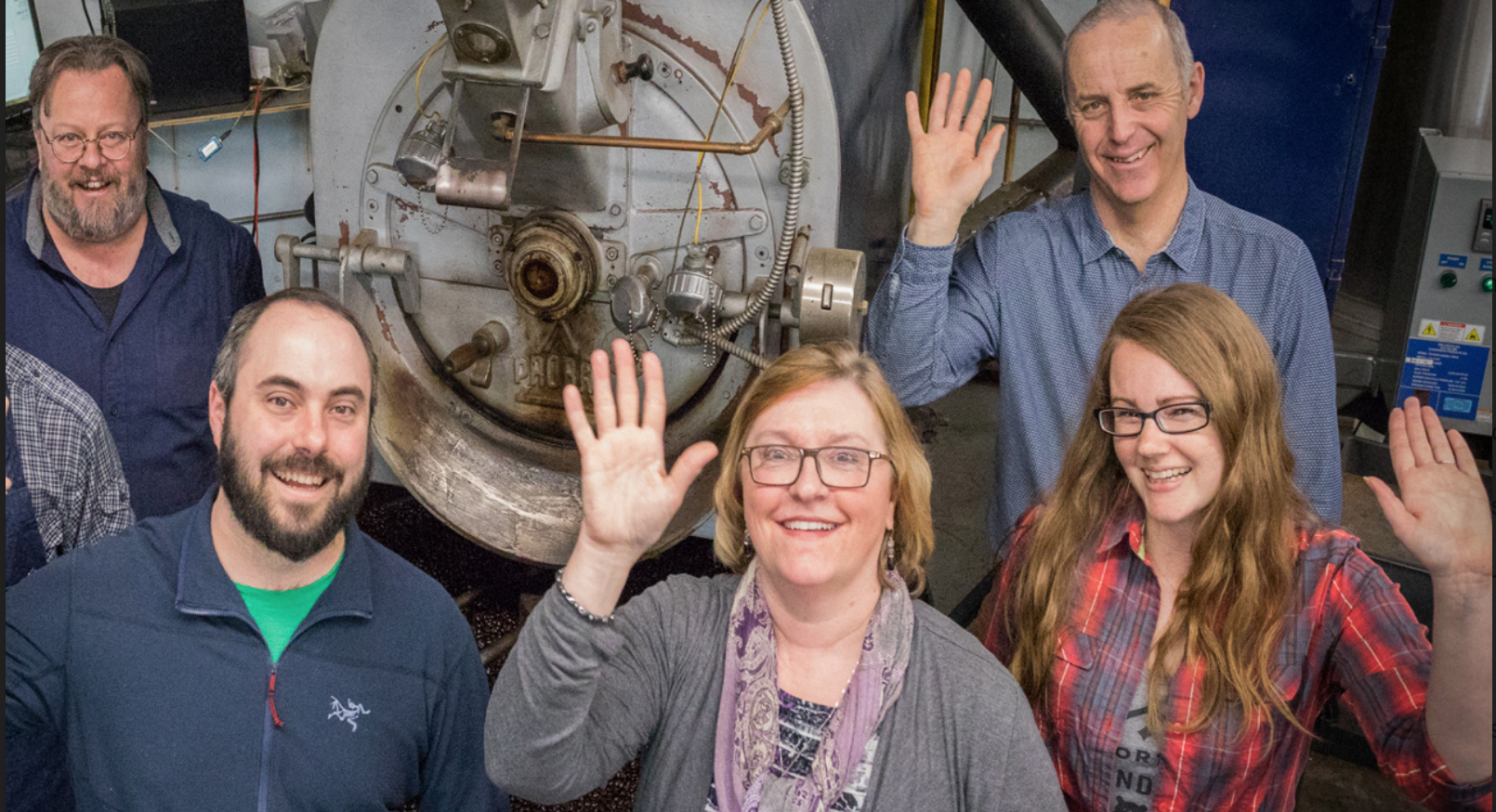 When Andrew Loveland started working for Planet Bean in Guelph, Ontario, three years ago, he didn't know much about worker co-ops. But he had a passion for coffee and an interest in ensuring it was Fairtrade Certified. If those were the things that got him to join Planet Bean, however, it was the worker co-op model that convinced him to stay.
"I learned that it was a great opportunity for people to kind of come together and work together as a community in a way," he says "to run a business that everybody was passionate about in one way or another. I just kind of saw it as a way that I could be a part of something bigger than I could do on my own and it gave me the opportunity to have my voice heard."
The desire to live out the co-op values that appealed to Loveland, while avoiding the pitfalls that sometimes accompany operating a worker co-op, has been a key motivator for Planet Bean's founder, Bill Barrett.  Planet Bean was established as a brand in 1997 and was incubated through a number of worker co-op structures in the early years. These co-ops had various levels of success but ultimately all struggled with undercapitalization. 
The business evolved from a very complex enterprise involving a bakery, full restaurant, caterer, organic home delivery food box program and coffee roastery to finally simplifying as a wholesale Fairtrade organic coffee roastery under the Planet Bean brand. This allowed a reset which enabled thoughtful consideration of how to structure a worker co-op that avoided some of the problems encountered by the previous incarnations.
Planet Bean's workers then created the Sumac Community Worker Co-op in 2005 to oversee the worker related aspects of the operation, freeing Planet Bean Inc. to focus on the day to day business operations, a structure similar to Spain's Mondragon Corporation. Workers begin employment with Planet Bean, which is owned and operated by the worker co-op, and if they ultimately decide to become members, they then become members of Sumac, and are seconded back to Planet Bean Inc., with Sumac invoicing Planet Bean for their wages. Sumac owns Planet Bean Inc.
Planet Bean now operates two retail coffee bars in Guelph and has a thriving wholesale business selling to supermarkets, food service, offices and universities.
"The purpose of Planet Bean is to make money within the values set by Sumac, the purpose of Sumac is to make sure that its enterprise, Planet Bean, follows those values, but also serves the needs of the workers," he says. "So the business's job is to grow, to make money, to be a successful business, and the worker co-op's job is to make sure the workers have a good workplace, they've got benefits, we're working towards a structure that can provide for them in retirement and all that other stuff, and the idea being that over time, we can actually open new enterprises."
Although the pandemic has put these plans on hold for the time being, Barrett envisions one day being able to add other businesses, such as a bakery, under the Sumac umbrella. He sees Sumac's structure as a way to avoid both the difficulties that sometimes come with worker co-ops that are too small to justify the extra hassles of running one, while also avoiding the temptation to demutualize if the co-op becomes too big.
"Picture a mainstreet with several businesses that not only serve the public but also each other.  A bakery, accountant, coffee roaster, marketing firm and courier service.  From the outside they look like separate businesses but from the back end they could all be owned collectively by their workers through a single worker co-op structure. This is the Sumac vision.
"It's a way to get away from that parochial nature, that inward-looking nature to create a structure that actually benefits by expansion and growth in a very obvious and intentional way by adding new businesses," he says.
Barrett acknowledges that the worker co-op model isn't for everyone, and cautions people interested in setting one up to ask the hard questions before they get too far into the process. But he's found that one of the most rewarding aspects of the co-op experience is not just working with others who share the movement's values, but giving people an opportunity to see that they can live out those values themselves.
"That's the other thing, to show people it is possible," he says. "To create in their imagination the idea that there is an economic alternative and it's happening."