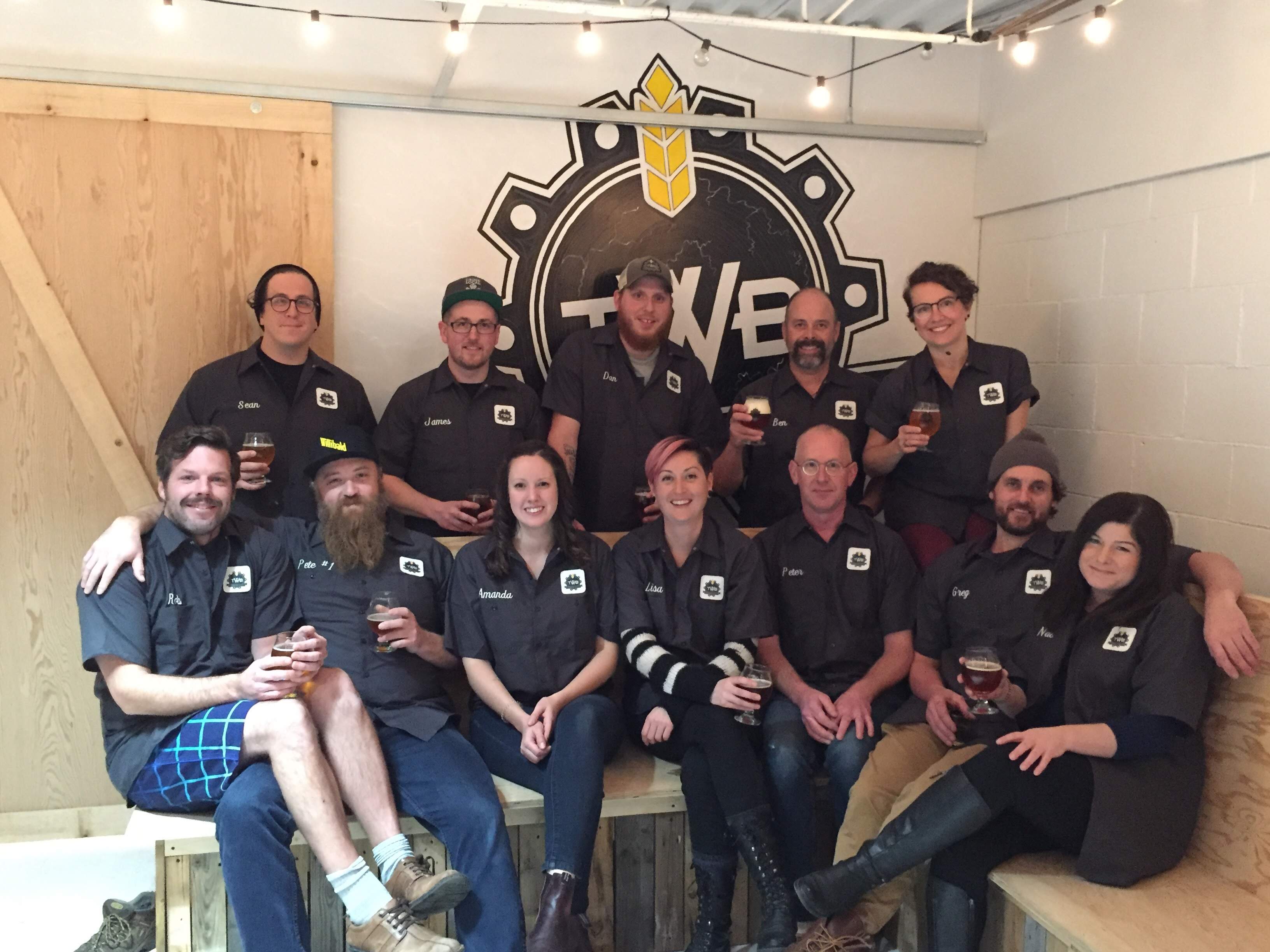 By Kenzie Love
When the founders of Together We're Bitter opened shop six years ago in Kitchener, Ontario, they wanted to create something that would make their surrounding community, in cofounder Alex Szaflarska's words, "a little bit more interesting and a little bit more fun." And what better way to do that, they concluded, than a co-operative craft brewery?
Even if things haven't unfolded exactly as the founders envisioned, Szaflarska is still happy with where TWB stands today. Members have come and gone, the pandemic forced some sudden changes, and outside knowledge of the worker co-op model sometimes remains lacking. But none of this has deterred the co-op from its mission to create both beer and community.
"We have a really great team," says Szaflarska and we're really proud of where we are."
The idea of establishing TWB as a worker co-op was the brainchild of cofounder Culum Canally, who was studying tourism and development at the time, and had learned how successful small pubs often wound up being bought out by distant investors, relegating the employees to low-paying service jobs. The founders agreed that they wanted to avoid this pitfall.
"Culum saw the co-operative as a way to counter that," says Szaflarska, "to keep a business and keep community at the centre of its operations, so that people could maintain control of their jobs, could keep having a say in how that business operates, and so that's what we did."
As sometimes happens with worker co-ops, TWB had some initial difficulty obtaining financing. But after deciding they didn't want to put forward personal collateral to secure a loan, they looked outward, turning to 17 community members who were willing to invest in the Co-op. In return for their cash, these members get a vote at the Co-op's AGM and the opportunity to share their ideas, as well as some perks at the brewpub. Szaflarska believes these members have also become great brand ambassadors for TWB.
"We're really, really happy with how that turned out," she says. "It allowed us to go to get some of the startup funding that we needed and to build a community at the same time."
The presence that TWB has been able to establish within its community has been one of the most rewarding aspects of Szaflarska's experience with the Co-op. One recent example she cites is the launch of a special beer in honour of World Down Syndrome Day, with the Waterloo-Wellington Down Syndrome Society helping promote the product and receiving a share of the proceeds in return. 
"Over the years we've partnered with so many different groups," Szaflarska says, and on both a personal and a professional level, I really, really love that about TWB."
Szaflarska acknowledges TWB has also faced its share of obstacles along the way. Many financial institutions remain unaware of the worker co-op model, which meant the Co-op was only able to secure a line of credit earlier this year despite having no debt. The pandemic forced a shift from an emphasis on draft beer to including canning, although the Co-op was able to handle this with relative ease due to the knowledge and resourcefulness of its members. The departure of three original members, moreover, has been hard. But the benefits of being a worker co-op when it comes to facing these and other challenges, Szalarska believes, outweigh any costs.
"One of the things that we found over the years is that even when faced with these kinds of obstacles, it's all doable," she says.  "I think there's a bit of a myth that somehow, like managers or people in charge know some sort of secret thing that the rest of us don't. But what we found through working with TWB. is that all that stuff can be learned."