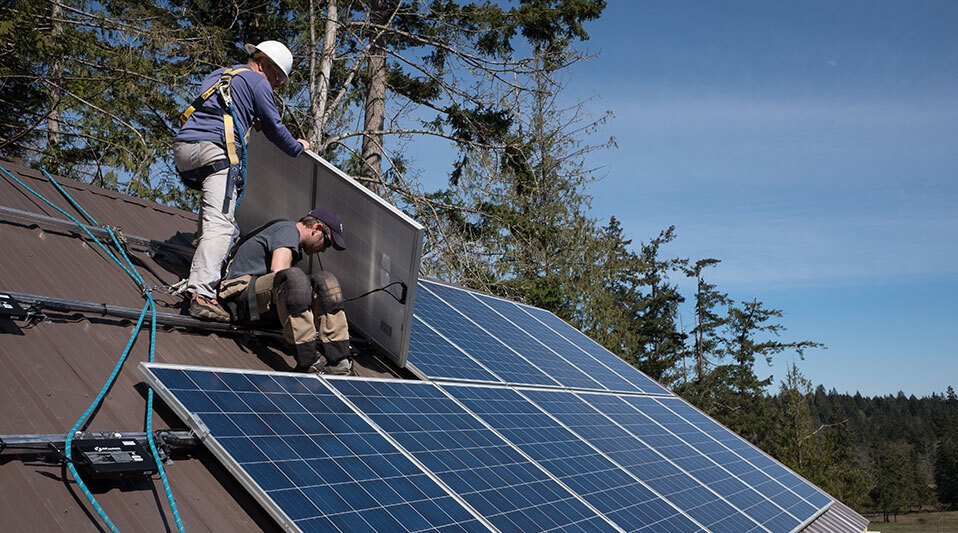 By Kenzie Love
In 2012, three alumni from Vancouver Island University's Green Building & Renewable Energy Program, inspired by the publicity surrounding the International Year of the Co-op, decided to create a worker co-op of their own: a renewable energy installer that would combine their skill sets while meeting the triple bottom line. The result was Viridian Energy Co-operative.
"We got together with like-minded people," says co-founder Kuan Jian Foo, "and we had some support from Vancity and the BC Co-op Association to explore the co-op business model,which we found really aligned with what we wanted to do and our values and what we wanted to achieve in the community."
The six co-founders drew experience from a variety of areas in the renewable energy sector. They were united, however, in their affinity for the worker co-op model.
"We came from a bunch of different backgrounds," says Foo, "but we were really looking for something where we could take advantage or enjoy the benefits of small business ownership. But also have a democratic structure and value each other in an equitable way. And we found that with the co-op structure and the one member, one vote that really spoke to a good way of achieving that."
A decade later, Viridian has installed over 5MW of solar (14,000+ solar panels) across Vancouver Island, the Gulf Islands, and beyond. Foo believes the ties Viridian, based in Duncan, BC, has made to the surrounding communities has been the most rewarding part of his experience with the Co-op.
"I think the most rewarding thing about my experiences with Viridian Energy Co-op is actually the connections with other co-operatives and other community groups," he says. "Helping other co-ops and connecting with housing co-ops, consumer co-ops, investment co-ops and just feeling part of a welcoming community of people."
With the Co-op's growth, however, there have inevitably been some challenges. The main one, in Foo's experience, has been a lack of familiarity with the worker co-op model among prospective new members.
"I find that it's so different from other business structures that people coming into it, coming to us for employment and then potentially future membership," he says, "have no idea or have never heard of worker co-ops. Or have a hard time getting their head around membership and the kind of different roles you have to play within a co-op as an owner-member and then as an employee of the co-op, so that can be challenging for sure."
Based on this experience, Foo advises other worker co-ops to plan carefully for growth from the outset.
"I would say, get as much advice as you can, and structure your memorandum and your documents very well," he says, "thinking well into the future of how your Co-op may develop."
But while Viridian has come a long way since its founding, its fundamental values remain the same.
"I think the goals of the co-op are to be one of the best employers in renewable energy on Vancouver Island," says Foo. "And provide employment for its members, and to serve the community by bringing a different business model and a different approach to the renewable energy sector and to support the communities."