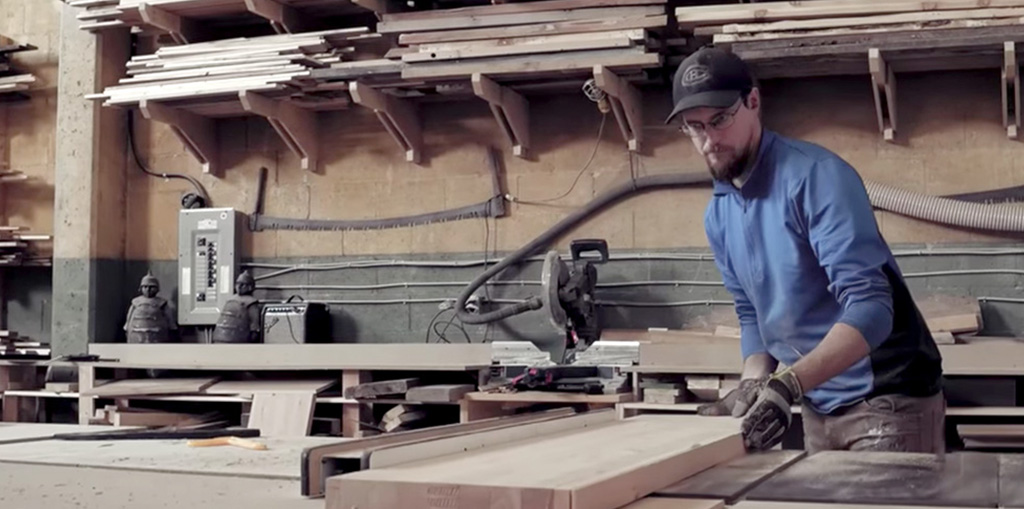 By Kenzie Love
Vancouver's Wood Shop Workers' Co-op produces a wide variety of products out of reclaimed wood, crafting everything from bed frames to kitchen tables. The unifying theme, however, is to create furniture that looks good, feels good, and does good. Incorporated in 2014, Wood Shop  emerged out of a local social enterprise incubator called Groundswell. The Wood Shop  founders came together around the idea of creating social good and were inspired to create a worker co-op, something co-founder Chris Nichols says has always been a key part of their operating philosophy.
"It was very important for us at the beginning, and still is," he says. "I think none of us were enthused about the idea of working for other people, while at the same time we wanted to create an organization that could bring more people in, and therefore grow our impact through growing our organization and doing so in a democratic way."
The subject of growth is front of mind for Wood Shop these days, as it recently moved to a larger location in East Vancouver. The site offers not just a new and improved location for the co-op, but also allows it to share the space with three other co-ops and a non-profit. The co-op recently launched a crowdfunding campaign to finance improvements such as proper dust collection and renovations to the site's community engagement space, but Nichols says the campaign is about raising awareness as well as money.
"We're trying to raise money, we're trying to build community around the space, we're trying to have all of our organizations flourish under that one roof."
Concern for community has always been important to Wood Shop , a value it seeks to uphold through practices such as ensuring its employees earn a living wage, practicing ethical sourcing, and using only eco-friendly finishes. Nichols believes the resulting ability to make a positive social change has been the most rewarding aspect of working at Wood Shop .
"We're not large," he says, "we're still a three-member worker co-op with several employees who are on track for worker ownership, but knowing that we're tapped into a larger movement, and that we're contributing to it through our growth and our impact, is what I want to be a part of and what I wanted to contribute to in starting this."
NIchols believes membership in CWCF has been a key part of staying connected to the larger movement.
"It allows us to connect nationally and sometimes internationally, to receive support," he says, "but not only support in terms of tangible and strategic goals but support in terms of what kind of a movement we're a part of and what we want to contribute to, and be inspired by other stories of other worker co-ops here in Canada."
Of course the co-op model also poses its challenges, and Nichols readily acknowledges that an enterprise invested in more than the traditional bottom line will face struggles at times. But he's hopeful that the new space will let the co-op grow in a way that aligns with its values.
"The acquisition of this new space that we've just ventured into and the sharing of the space with other like minded organizations is hopefully a way of addressing those challenges," he says, "allowing us to scale but in such a way that is building the kind of community that we want rather than only increasing our margins and maximizing our profits."
However much Wood Shop grows, one thing seems certain: community will remain the most important thing they build.
[Please note that Woodshop is running a crowd-funding campaign in order to grow its impact by establishing a new shared building for co-ops and social enterprises. See https://www.wayblaze.com/fundable_projects/looks-good-and-does-good-now-we-want-to-do-more/]