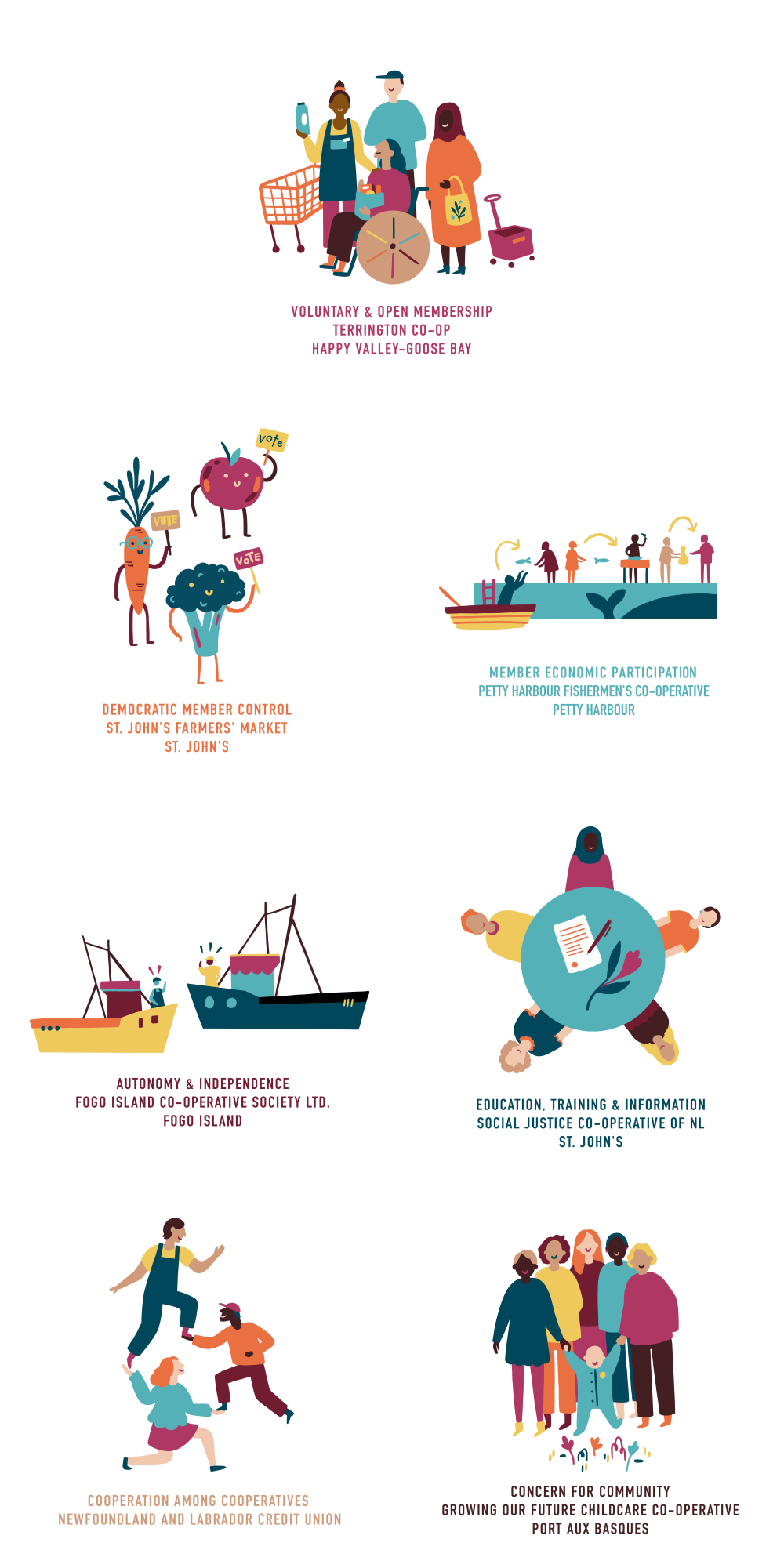 The $1000 grant for a youth-based arts and culture project was awarded to the Social Justice Co-operative of Newfoundland, a group committed to raising the profile of co-operative approaches to economic and social development in Newfoundland and Labrador. With the support of the grant, SJCNL commissioned local freelance artist Molly Margaret (age 25) to create seven illustrations based on the seven Co-operative Principles, each one highlighting a different co-operative in Newfoundland/Labrador. 
The Social Justice Co-operative of Newfoundland worked with the Newfoundland Federation of Co-operatives to identify suitable co-operatives to work with for this project and learn more about the work that these co-operatives do across the province to inform the illustrations. Molly produced 7 beautiful illustrations that can be freely distributed for non-commercial purposes. 
The Co-operative hopes that this project will help co-operatives and the people who love them across Newfoundland and Labrador bring co-operatives and their history in the province alive. Newfoundland has a long history of co-operatives, but that history often "flies under the radar." It is also a generational issue – many of the founders of the co-operatives that are active in the fishery, in retail and beyond in Newfoundland are reaching retirement age. 
The exercise of making these illustrations has already helped strengthen networks and made for wonderful, intergenerational conversations about the co-operative movement in Newfoundland. Neria Aylward, leader of the group which received the grant, says "We look forward to members of our movement freely using these images to reach their own communities for years to come."
CWCF's Young Adult Arts and Culture Grant exists due to the generosity of the late CWCF past president Mark Goldblatt, whose bequest enabled the creation of this grant.