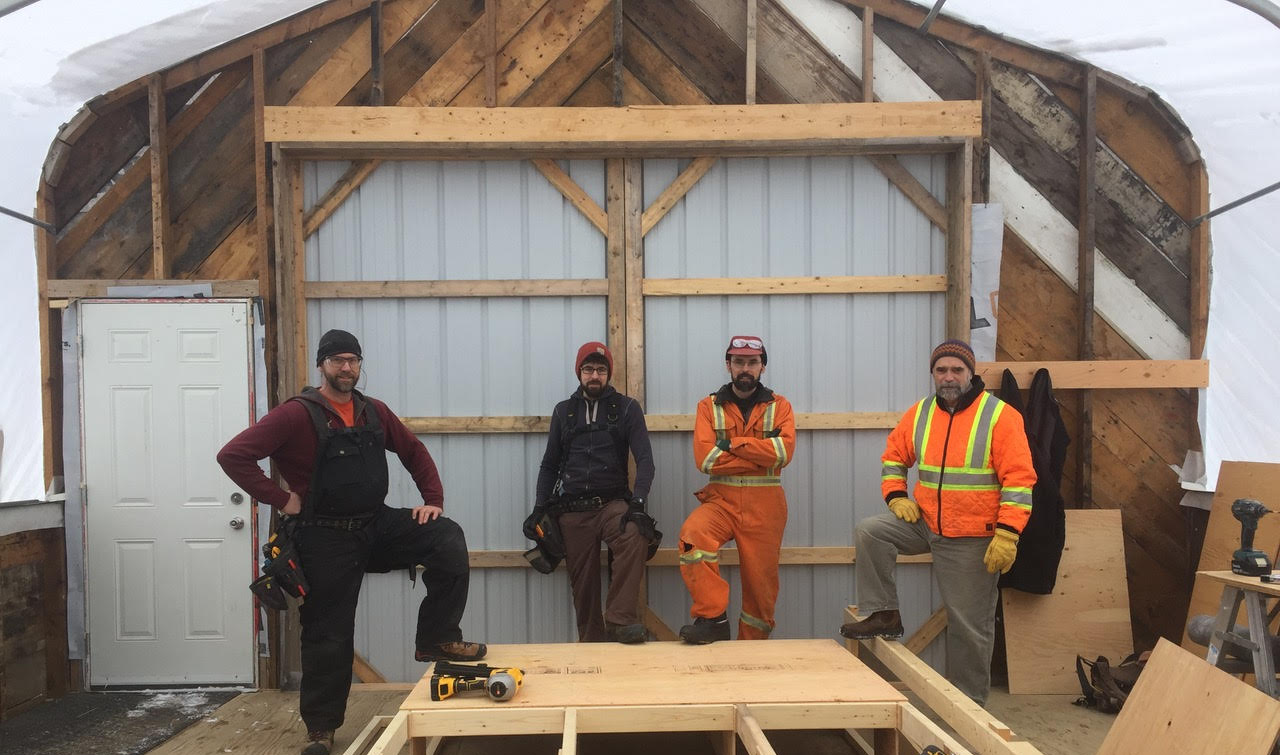 By Kenzie Love
When it comes to building houses, Winnipeg's Sun Certified Builders Co-operative firmly believes that less is more.
By building "passive houses", well-insulated buildings that require little energy for heating or cooling, Sun Certified's builders are able to deliver houses that have a lower carbon footprint than ones heated or cooled with conventional technology.
"If you have lots of insulation in your building you're going to end up paying less for utilities, and for less energy that's going into heating your house," says worker-member Doug Grant. "It's more focused on reducing the energy rather than trying to find an efficient way to deliver it."
Sun Certified incorporated in 2012 as a largely family-run multi-stakeholder co-op. The Co-op's founders already had many of the tools and equipment required for their business, and wanted to find a way to pool their resources so they could take on larger projects, something for which the co-op model — which was receiving added publicity that year during the International Year of the Co-op — seemed well suited.
Nine years later, the Co-op continues to focus primarily on energy efficient buildings and renovations, although it's expanded into areas such as cabinetry and tiling as well. As a multi-stakeholder co-op, Sun Certified has also sought to extract the maximum benefit from its supporting share stakeholders by including them in board meetings and committee work.
"We're basically just using their expertise to our advantage," says founding member Evan Proven, "which was kind of what we think is the benefit of the supporting share classes in our multi-stakeholder organization."
Sun Certified has also added some non-family worker-members in recent years, with plans to hold a visioning exercise soon to determine how these hires might change the direction the Co-op wants to go in. For Grant, one of the two new members, working at Sun Certified has reaffirmed the egalitarian nature that he likes about worker co-ops, which he's had considerable prior experience with.
"I appreciate that about worker co-ops," he says, "and I feel like having input from more than just an owner of the business often leads to better and often more ethical decision making."
Decision making is a challenge Sun Certified's members sometimes face when it comes time to issue the bill for a project. As their exacting standards often mean a project will come in over budget on labour costs, the co-op must decide how much of the extra costs to pass on to customers.
"Customers are always quite happy with the final product," says Proven. "Nobody's ever happy when you try and tell people it's going to cost more than what you thought it would. So, we often end up, you know, reducing the amount of the bill to try and keep it more in line with what the estimate was, but then obviously that creates challenges in growing the business, or even paying out a dividend to members if you're not profitable."
But the rewards of employment in a worker co-op go beyond the financial compensation. What's also important, Grant believes, is the ability to have a real say in the business's operations.
"I appreciate that there's a lot of opportunity for self direction," he says, "so if there's something that you see and then you want to get done, you can go  and make it happen. And I feel like the reward for that is that you see it benefiting your business and your co-op rather than just benefiting your employer."