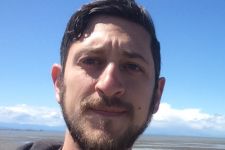 CWCF is pleased to welcome Jared Blustein, a member of The Allium Restaurant  in Calgary, to its board as a Director-at-Large. Jared and the other members of The Allium, which operates both the restaurant and a marketplace to sell unused foodstuffs, strongly believe in allyship and support of other worker co-ops as a part of their  mandate. In addition, Jared has many years of experience in the worker co-op movement, and as a strong believer in the work CWCF does, wanted to support it however he could, making the role of director a logical fit.
Jared believes there has been a significant increase in interest in the worker co-op model as a result of the weaknesses in the current economic system the pandemic has exposed, and believes this creates an opportunity for CWCF to support the creation of more worker co-ops in the coming years. At the same time, he's aware of the difficulties associated with this in what he considers an increasingly debt-dependent society.
"Our biggest opportunity is to help create more worker co-ops but our biggest challenge is to help these co-ops be realized within an increasingly difficult economic situation," he says.
Asked what he most wishes people knew about worker co-ops, Jared points to the fact that they're a lot of fun, particularly compared to a traditional business that offers employees little autonomy or solidarity. He believes that worker co-ops illustrate the fact we are not only "stronger together" but "funner together". When having fun outside of work, Jared enjoys skateboarding, hiking, camping, and spending time with his partner and their newborn son.
Congratulations Jared, and best wishes for a successful tenure on the board.