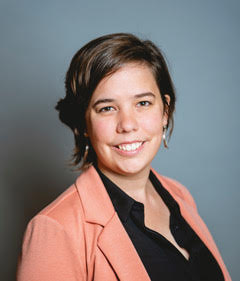 Jessica Provencher has served on CWCF's board since 2011. She got her introduction to worker co-ops as a bartender at La Barberie, a microbrewery in Quebec City. During her time there, she spent six years as head of co-operative life, representing the co-op at conferences and on various boards. She currently is on the board of The Co-operators, having been nominated by CWCF.
Serving on the board has allowed Jessica to learn more about worker co-ops in the rest of Canada, and to bring her experience from the Quebec sector to CWCF. She believes she's benefited from building relationships with members of the worker co-op sector who share common values in spite of geographical separation, and learning that there were more people committed to worker co-ops in Canada than she believed.
"That gave me faith and confidence that there were a lot of people in Canada and throughout the world that wanted this model to be more dynamic and more well-known," she says. "So I think how I've benefited the most is it kept me motivated to work in worker co-ops and to help and support them to be viable."
Jessica believes in the worker co-op model because it empowers workers in both their work lives and other areas, and thus helps create stronger communities. She also believes CWCF has both a challenge and an opportunity in the coming years to grow Canada's worker co-op sector, and that issues such as the impact of the Covid-19 pandemic, the climate crisis, and precarious employment make this especially timely.
"I think the worker co-op movement can be a very good example of how it works when people come together and share the power and responsibilities in organizations," she says.