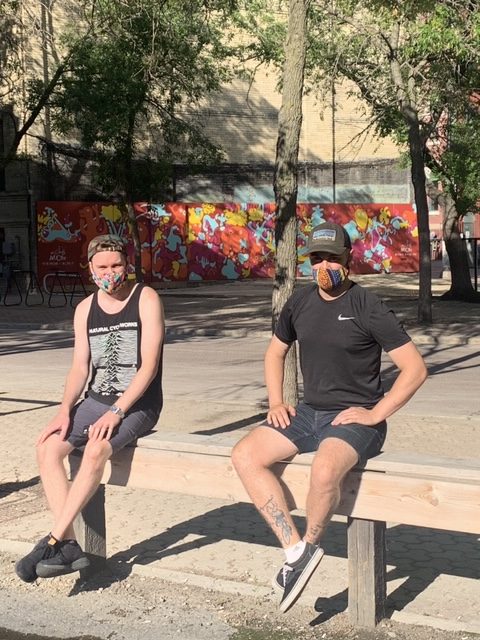 By Kenzie Love
Much like the components of the bicycles they sell, the members of Winnipeg's Natural Cycleworks all have defined jobs but play an equally important role. It's an aspect of the worker co-op model that appeals to member Zach Allard, now in his sixth year with the co-op.
"It does provide a really good sense of cohabitation and everybody working together towards a similar goal, all the while being able to bypass or solve issues that sometimes plague co-ops," says Allard. "We all have a specific job, we know how to hold each other accountable and get things done."
Established in 1999, the co-op has grown considerably since its founding, going from a small room in the basement of a heritage building in the city's downtown to taking over that whole floor. Cofounder David Geisel didn't expect this transformation when he started out, armed with knowledge of bikes from his background as a bike courier and mechanic and an attraction to the co-op model from working at the consumer co-op grocery store, Harvest Collective. 
Although it wasn't  a worker co-op, Geisel still found the grocery's collaborative culture inspiring, and decided he wanted to replicate it. More than 20 years later, collaboration remains an important part of the co-op's ethos. The most rewarding part of the job for Allard has been helping new staff develop their skills. 
"I've seen a handful of staff now go from absolute novice mechanics to being able to basically fix anything and be able to kind of come into their own," he says. "Being able to just help people get as good as they can at the job is always a good feeling."
As Allard acknowledges, however, the expertise working at a bike shop demands often comes with comparatively low pay. Improving member compensation is a key goal for the co-op going forward, as it tries to retain skilled staff and cater to a broad clientele. But unlike many conventional businesses, the co-op is concerned with its customers getting the best possible experience from their purchases, rather than ensuring they make the most expensive ones possible.
"I think if you walk into the bike shop, you talk to the staff, you know pretty quickly that they care about your riding experience," says Geisel, "they care about you having the best bike you can, whether it's fixing it or selling you a new one."
In addition to sharing their knowledge with customers and staff, however, the co-op's more senior members have honed their collaborative skills as well, something Geisel credits to the worker co-op model's emphasis on tools such as diplomacy and group decision-making,
"Mechanics are very linear, black and white, it's all very straightforward to me," Geisel says, "but people are very complicated in comparison and that's been a real struggle for me through a good chunk of my life, so co-ops can be very useful."