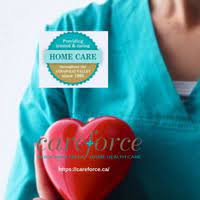 After nearly 12 years of operating successfully as a worker co-operative, Careforce Home Care Worker Co-op (Annapolis Valley, Nova Scotia) sold its operations to a private company in April 2019.    
Before the Co-op formally winds up, to help pay forward the support they received when they started, the members have committed a donation of $5,000 to CWCF to assist other co-op start-ups.  We will use this in our Technical Assistance granting pool.  Many thanks to the members of Careforce Home Care Worker Co-op!  
The Co-op's Manager, Debbie Raine, had this to say in making the donation:
"We felt we had accomplished everything we had set out to do and were pleased with our successes!
With ever increasing competition, all vying for the same staff in a rural community, and no expression of interest from new members, remaining members (average age of 55) had no appetite or energy to deal with the challenges ahead of us.   We are pleased that Careforce continues to be successful under new ownership.
Without the financial support that we received from CWCF, Careforce could not have become the success story that it did.  Members are thrilled to play a small part in assisting start-ups in the same way we were supported.  
CWCF and the co-op movement will always remain special to us and we will continue to be inspired by what we learned during our time as a cooperative."