Annapolis Valley set to host national worker co-op conference, fall 2014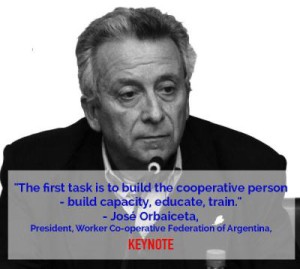 WOLFVILLE, NS. – The Canadian Worker Co-operative Federation (CWCF) has announced plans to host its 23rd annual fall conference in Nova Scotia's Annapolis Valley from November 5-8, together with co-host CoopZone.
The three-day (+) conference, which brings together many of the Federation's 60 member organizations and 100 indirect members from across the country, aims to strengthen Canada's growing worker cooperative sector. It features a number of workshops, collaborative planning sessions, and guest speakers. This year's keynote speaker is José Orbaiceta, President of the Worker Co-op Federation of Argentina.
A worker co-op, for the uninitiated, is a form of business where a company's employees own and democratically manage the business. Typically, they share in both the business' decision-making and its profit. Currently, there are an estimated 350 worker co-ops across Canada, employing 10,000 people. The Annapolis Valley is home to a number of worker co-operatives including Careforce and JustUs! Coffee Roasters. It is also home to several other co-operatives, such as Scotian Gold, Valley Credit Union, the Wolfville Farmers' Market, the Deep Roots Music Co-op, and the Acadia Cinema Co-op.
Federation Executive Director, Hazel Corcoran, says that changing economic conditions have led more businesses and entrepreneurs to explore the worker co-op model. "In contrast to the fragility of working for a non-local corporately-owned business, worker co-ops offer employees a chance to control their own destiny because they run the company." She adds that demographics are also fuelling interest in worker co-ops. "As more baby boomers prepare to retire and sell their businesses, they are realizing that selling to employees can be an attractive option as a way to obtain a fair price, as well as for legacy reasons," says Corcoran.
The conference theme – Member Engagement and External Partnerships – encourages co-ops to build stronger relationships with member-owners while building bridges with governments, other enterprises and organizations, and other co-ops around the world. There will also be workshops on financing, pricing, branding, worker co-ops 101, and more.
The conference is open to non-members.  People are welcome to attend all or only part of it.  The Program is available here. The evening session on Wednesday, November 5th, called "Selling your Business to your Employees," is aimed at local business owners.  The evening Co-op Showcase on Thursday, November 6th, in which several co-ops from across the region and the country will give a fast-paced Ignite style presentation, is free, and open to the local community.  
Conference presenters include JOSE ORBAICETA, President of the Worker Co-op Federation of Argentina; KAREN MINER, Managing Director of Saint Mary's University's Co-operative Management Education program; and RYSZARD STOCKI, lead developer of the Worker Co-op Index, from Poland.
-30-
For more information/interviews, contact:  Hazel Corcoran: hazel@canadianworker.coop, or (403) 276-8250.