This day started out with great anticipation and enthusiasm and it didn't disappoint.
The session was facilitated by Quebec board member, Jessica Provencher, who started the day off with a survey of who was in the room. Then we got right into things with Stephen Law who has extensive experience in mediation and conflict. Stephen started us off with getting everyone lined up on the basis of how comfortable we are with dealing with conflict. It was interesting to see people gathered at both ends (very comfortable to not at all comfortable) with a few people in the middle. Overall the participants in attendance felt that conflict can be generative and bring positive outcomes but not everyone feels that they have the tools to deal with conflict.
Stephen pointed out that there are four forces at play in conflict, with the acronym FEAR (Freedom, Economics, Alienation, and Rivalry). Further into our session we discussed the intertwining of conflict and peace noting that they are not in a linear relationship but interrelated.
Next, Stephen offered us some tools to help resolve conflict:
1) Paraphrasing what you hear so the other person feels heard (ensuring we hear the emotion as well);
2) Using open-ended questions to open up a conversation;
3) Summarizing to provide context and noting the underlying fears; and finally
4) The skill of suspending judgment.
Together these tools can facilitate the resolution of conflict. In the end it is the people in conflict that need to solve it; a mediator can only help facilitate the discussion and process. He noted that not all conflicts end in a resolution we hope for. Sometimes the best resolution is one person leaving the organization.
I think that Stephen offered us some really good tools for solving conflict, but it was clear to me that in order to become better (more skilled) at this we really need to practice these tools and face up to conflict. Seriously, many of us would tend to want to avoid conflict. However, given that we all realize that conflict is an ingredient in human relationships; we all need to be aware of it and see how managing conflict well can lead to stronger, more resilient worker co-operatives.
Jessica then took over and had us work together in groups in three areas related to including more democracy in our co-ops: Participatory Evaluation, Collective Recruitment, and Participatory Decision Making. She shared with us some tools that we then discussed in table groups and then as a larger group. Ultimately we agreed that these suggested processes have value and can be adapted for the culture and situation within our own co-ops.
Our next topic for the day was Compensation as a Philosophy (see this presentation here). Sonja Novkovic presented a new view on how we might approach compensation in our co-ops using a principles-based compensation philosophy that seeks to go beyond the money and embrace motivation towards a holistic, human-centred compensation philosophy. The focus is on the question of the "why" of compensation rather than the "how".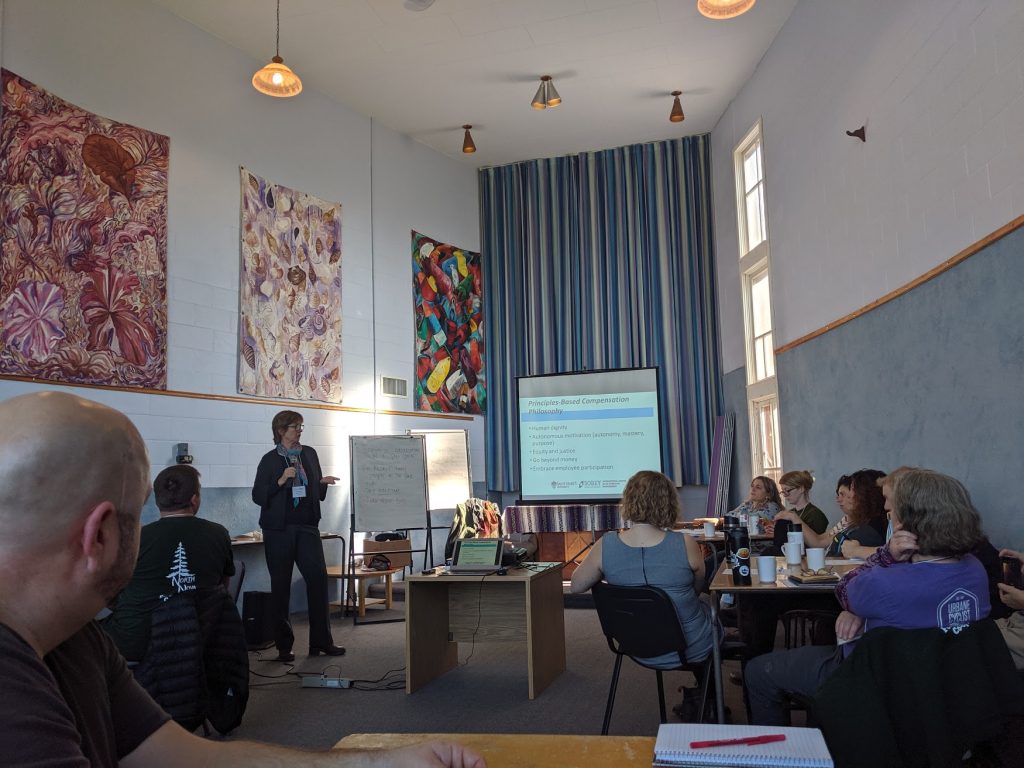 "In short, the role of compensation in a co-operative is to heighten and preserve human dignity by paying people adequately and fairly, and affording them autonomy to act, as opposed to exerting control over them. This will increase the right kind of motivation, improve employee participation and productivity, and more likely align personal success with organizational success through stewardship, psychological ownership, and real control over their productive lives." (Compensation in co-operatives: Values-based philosophies; Authors: Sonja Novkovic and Karen Miner)
We then discussed in our groups the challenges and opportunities that such an approach might offer our co-ops. This certainly opened up new and interesting ideas for us, but people did highlight that many times their co-ops face financial limitations that make paying fair wages a challenge. One idea was to create an aspirational vision of the pay scale and then develop the action plan to get there.
Finally, Jessica led us through a discussion of the benefits and values in a worker co-operative. Some of the key benefits covered included: group benefits (health and dental), value match, co-operating in business ownership, profit sharing, flexibility, training, and product discounts. In addition, those in the room also had some specific benefits related to their situation such as sabbatical policies and personal leave policies.
In summary this intensive offered a great mix of topics and information. One participant noted that,
"The discussions on conflict management and compensation were hugely impactful and timely for our co-op."