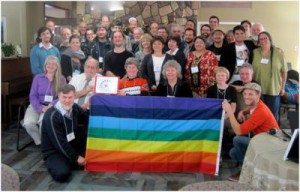 Star of the North St. Albert, AB, Canada
Date: Thu, 2013-11-07 09:00 – Sat, 2013-11-09 13:30
CWCF AGM/Conference a Success!
The Canadian Worker Co-operative Federation's (CWCF) annual Conference and AGM which is held jointly with CoopZone was held in Edmonton, Alberta, from November 7th to 9th.
Key highlights of the Conference included Worker Co-op Showcase Ignite presentations, presentations and discussion on the Indivisible Reserve and a session on Effective Meetings and Decision-Making in a Worker Co-operative.  There were several workshops on topics of practical interest to worker co-ops and developers.
Lynn Hannley was awarded the Merit Award. Over the years she has been involved in the development of several worker co-ops, 59 housing projects and other community-based co-operatives, and helped create the CoopZone training program. For more about Lynn, see: http://www.communitas.ca/partners
At the AGM some important resolutions were passed, notably a co-op preferential purchasing policy and a resolution to develop a proposal for favourable tax treatment for co-operatives who institute indivisible reserves within their by-laws.
Three Board members were acclaimed: Prairies, NWT/NU Director Jamie Campbell of ParIT in Winnipeg, At-large Director Yuill Herbert of Sustainability Solutions Group in Nova Scotia and a new British Columbia/Yukon Director, Stephen Elliot-Buckley, of Incipe Cooperative in Burnaby, British Columbia.
Continuing Board members include At-large Director Alain Bridault of Orion Co-op in Quebec City, Atlantic Director Eric Tusz-King of EnerGreen Builders' Co-op in New Brunswick, Ontario Director, Reba Plummer of the Urbane Cyclist (Toronto), and Quebec Director, Jessica Provencher, La Barberie (Quebec City).
CWCF thanked the outgoing BC Director Boris Schaffer for his many contributions.
The CWCF Conference had the theme "Educating Each other for Empowerment".  Keynote speaker, Yvonne Chiu was joined by other members from the Multicultural Health Brokers Co-operative where they shared their story of how they built their worker co-op that empowers immigrant workers.  Conference participants had an opportunity to visit the Multicultural Health Brokers on-site later the next day.
Participants were very pleased to have a report from Rebecca Kemble on the ICA / CICOPA activities held immediately prior in Cape Town, as well as from the Opposition Critic for Co-ops, Hélène LeBlanc.
Participants viewed Shift Change, an excellent documentary that CWCF encourages its members and others to bring to cities and towns across Canada (click here for more information), as a great way to educate the public regarding worker co-operatives.
Visit our conference facebook page to join and to connect with others who attended the conference click here.