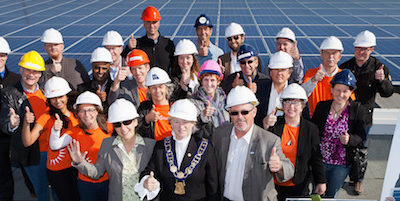 By Kenzie Love
Founded in 2010, SolarShare is Canada's largest renewable energy co-op. The Co-op owns and operates commercial-scale solar systems throughout Ontario. Once the systems are completed and generating revenue, they are refinanced with community investment—Solar Bonds—from over 2,000 members. 
Investors in Solar Bonds are also members of the Co-op who are eligible to vote at the Annual General Meeting and may run to serve on the Board of Directors. The Co-op's members have invested over $70 million, earning over $9 million in interest. Chris Caners, the Co-op's General Manager, says working with a membership-driven organization has been the most rewarding part of his experience.
"We're working on solar issues that matter to our members," he says. "And I feel like It's really awesome to be part of a membership-based organization, because the membership controls it. And that's really part of what I like about my work."
SolarShare's portfolio consists of 51 projects totalling nearly 15 MW of installed capacity. The projects range in size from 12 kW rural systems to 600 kW (DC) arrays on industrial rooftops and in non-arable fields. The projects are located across the province, from Manitoulin Island to St. Catharines to Timiskaming. Together they contribute to the generation of clean electricity, resulting in a reduction of more than 500 tonnes of greenhouse gas emissions annually.
Caners acknowledges that, as with any relatively small business, there are always new challenges arising for the Co-op. However, he's found SolarShare's board of directors and committees valuable sources of support.
"We have a great board of directors, and a great set of committees around us with people who give their time to help SolarShare navigate the world," he says. "The awesome part of having a community-based organization is that you have people from the community, and from the membership, saying we'd like to help. We agree with what you're trying to do and so there's lots of people with lots of really great knowledge and experience that can help us, and that's what's been happening."
SolarShare is a member of CWCF's registered plans program, Common Good Capital, which is open to all co-operatives, Community Economic Development Investment Funds (CEDIF) or similar entities, or non-profit organizations (NPO) that have eligible securities.
SolarShare is one of the approximately 60 Associate Members of CWCF which have joined in order to have access to the program. To read more about our program, see this link.  CWCF is proud to be associated with SolarShare and the great work it does around Ontario.