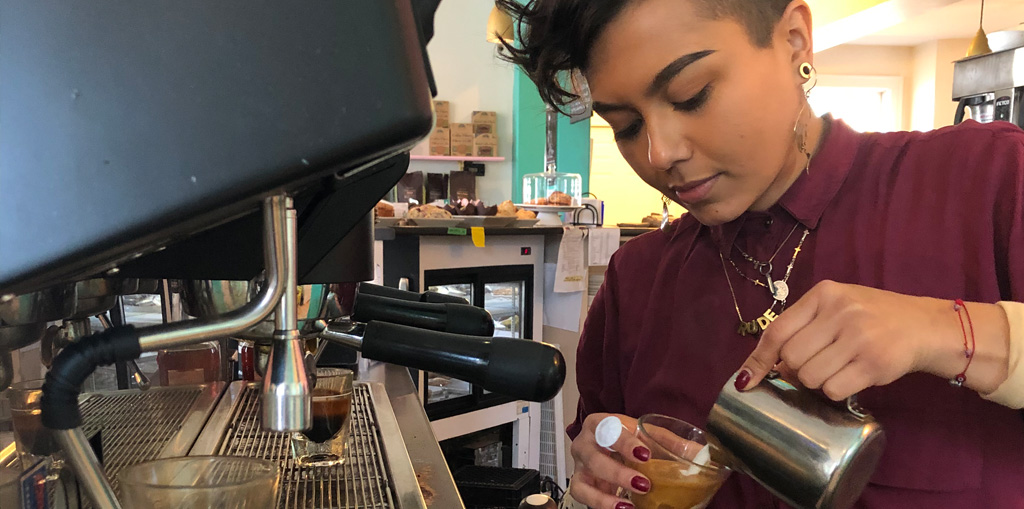 By Kenzie Love
Queer spaces are scarce in Halifax these days, and until recently, queer-owned worker co-ops were non-existent there. And then along came Glitter Bean Cafe, which while still in its infancy, has succeeded by being both.
The Cafe, a member of CWCF, is the successor to predecessors at the same location that operated under the Just Us and Smiling Goat banners. When Smiling Goat was shuttered in April, 2018, it looked like the end of the road for the Cafe's employees, until they got an appealing offer from Just Us, which still owned the building: would they be interested in reopening as a worker-owned business? Just Us's offer of affordable low rent, plus some start-up funding from the Service Employees International Union local, convinced the store's employees to say "yes".

"It's something that we'd sort of joked about for years", says worker-owner Charlie Huntley, "because oftentimes we were in a situation where management was very hands off and we thought ' we could run this place ourselves', and eventually that came to fruition".

Glitter Bean defines itself as "explicitly queer but not exclusively queer", meaning that while it works hard to centre members of this community, it also strives to offer a welcoming space for everyone. Maria Ossa, another of the Cafe's original worker-owners, confirms that the Cafe's queer-centric nature is an important part of its identity.

"The majority, if not all of our staff identifies as queer, also the majority are gender non-conforming, or trans", says Ossa, "so we prioritize hiring people who are gender non-conforming, queer, gay, or transgender. We feel that it is very important to prioritize those people cause it's very often that it's hard for gender non-conforming people to get jobs due to their gender non-conforming status".

Although the Cafe was already home to many queer employees under its previous incarnations, Ossa says things have changed for the better now that the Cafe's workers are also owners.

"I feel like it's way easier for us to prioritize queer people, it also gives us more agency over our business decisions, I really enjoy working with the people that I work with, and it's just much better to manage a business when there's more people involved."

If providing a welcoming space for the queer community has come naturally, however, Huntley acknowledges the mechanics of running a business have been harder. But In spite of the steep learning curve that has accompanied owning the Cafe in addition to working there, they believe it's been a valuable experience — for customers as well as staff.

"It means that as a group of queer and trans workers, we have a say in making this a safer space for queer and trans people," they say, "so it's something that we haven't been able to do in years past because of the ownership model that has been used in the past by other owners. In general, so many people tell us every day that this space means so much to them, and it means so much to so many different people".


Other LGBTQ2S+ worker co-ops include: