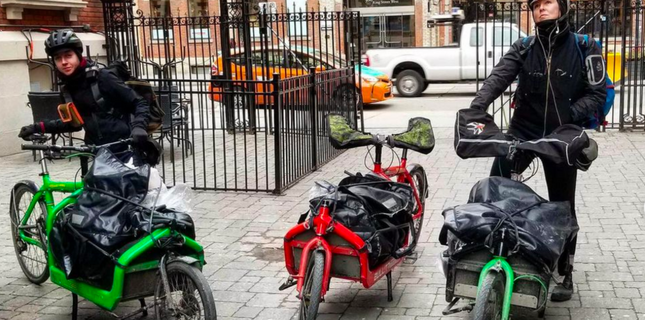 By Kenzie Love
With its physical demands, always-present risk of injury, and sometimes unpleasant weather, bicycle courier work might not seem like a dream job. And for an employee of a traditional business, it probably isn't. But when it comes to working for Toronto's SendIt Courier worker co-op, Kat Exner couldn't be happier.
"I just love the nature of the work," she says. "Even though it's grinding and hard and some days you really have to push yourself to keep going, I like the challenge of it."
Established in 2012, SendIt initially focused on delivering meals. It shifted out of that sector with the rise of food delivery apps, but will transport almost anything else today. It's both a worker co-op and a non-hierarchical collective, a model also found in other cities in North America and Europe, and something member Doug Drake contrasts favourably with the traditional courier model.
"It's a better work environment that's not so dependent on a dispatcher who you've probably never met, who you only hear on a radio, and getting commission and sometimes not even being able to make minimum wage," he says.
Although Drake and Exner agree they'd like members to be able to earn a little more, working for SendIt has also offered less tangible benefits. Both veterans of a variety of office jobs, they've found they prefer the more collaborative environment that the Co-op offers. Instead of dividing up the Co-op's office and delivery roles, all the Co-op's members have to take shifts at everything, a set-up Drake appreciates.
"We feel that it helps with the division of responsibility in that we can all do a lot of different roles, and also the courier has a much more unique perspective because they understand the business and the delegation and the dispatching necessary for the day," he says, "so I feel it makes us also a stronger, better team as couriers, the fact that we actually do all the roles."
But even in the best of times, courier work is an unpredictable business. SendIt's members have to charge rates that can provide them with a living wage that are also reasonable for their customers, many of whom are also small businesses with little money. 
"It's striking this balance between affordability but also the ability for our couriers to afford one of the most expensive cities in North America to live," says Drake. "So it's always this challenging balance between acquiring clients, losing clients. In this industry clients come and go."
Although the pandemic has cost SendIt some clients as businesses have increasingly turned to digital solutions instead of paper and parcel transport, Exner believes the impact hasn't been entirely negative. The reduced workload, she says, has opened the door to trying new approaches.
"I do think that things like this pandemic and losing long-term clients who have maybe moved out of our zones or something is that it has made us look at different ways of doing business and being flexible with our pricing.  I think one of the positively challenging things about work is seeing how you can build your business in ways you hadn't before, because you were so busy that you didn't have the time to really think about."
Dealing with the pandemic's aftermath, Drake believes, will require innovation. But fortunately that's something everyone at SendIt is encouraged to contribute.
"One of the most rewarding things about working at SendIt is it's non-hierarchical; no one is above anyone else.  We're all equal, and there is no ' that is not in your job description' or 'that's above your pay grade' or things like that," he says. "It's kind of if you have an idea and you want to do something, then the team will hear you out and you can do that action or thing or idea you had to help get a new client or improve our office, or find a different way of doing things."