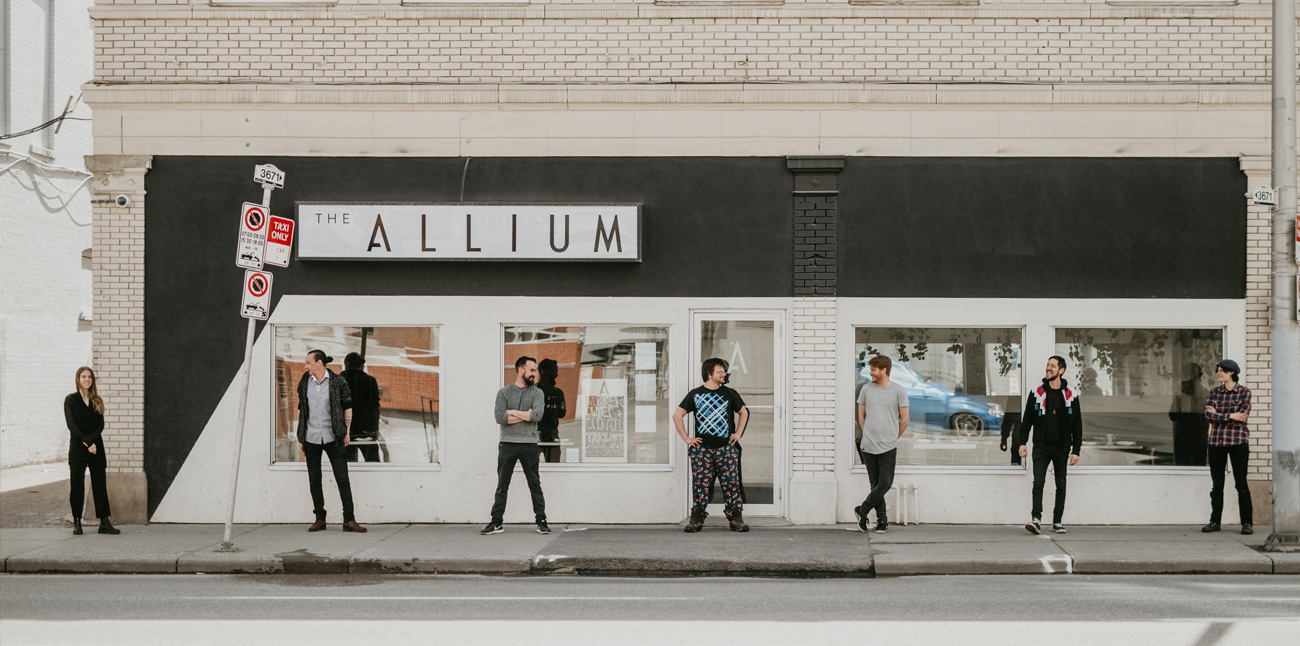 By Kenzie Love
Worker co-ops have proven to be more resilient than conventional businesses. But like any business, some of them still inevitably close. Such was the case for Calgary's The Allium Restaurant, which opened in 2019 and shut its doors last month. Despite the critical acclaim it garnered, the restaurant struggled with factors beyond its control, including the Covid-19 pandemic and the reality of being part, however reluctantly, of a capitalist economic system. 
Jared Blustein, one of The Allium's co-founders, acknowledges there are some things he wishes the members had done differently in hindsight, but remains proud of what they accomplished. He was thus eager to offer some insights on what went right, what went wrong, and what other worker co-ops might learn from The Allium's experience. The views expressed are his own and don't necessarily reflect those of The Allium's membership as a whole.
From the start, Blustein wanted to create a worker co-op, seeing worker empowerment as an antidote to many of the challenges facing society. A veteran of several restaurants, he was less enthusiastic about establishing one of these, being familiar with the industry's culture of waste, hierarchical structures, and other troubling practices. But this hesitation also proved to be a motivating factor. Some of the very flaws in a traditional restaurant, he believed, could be addressed by the worker co-op model.
Following a social enterprise course provided by Calgary's Momentum agency, Blustein and the other founders set out to do things differently. They agreed to the flattest possible management structure, with all members receiving an equal share of the profits, and everyone taking a turn at the various duties. The first year came with some notable successes. Calgary's Avenue magazine named The Allium the city's best new restaurant, and in contrast to the steep losses restaurants typically incur in their first year, The Allium actually broke even, which Blustein doesn't think would've happened under a conventional business model.
"It was exciting," he says of the early days. "It felt like we were doing something really great and impactful here in the city."
As with any restaurant, the pandemic, which came less than a year into The Allium's history, posed a formidable challenge. But The Allium also proved more adaptable than the typical restaurant, shifting to delivery and takeout. At a time when many restaurants around the city were closing, The Allium persevered. 
But even as it weathered the pandemic comparably well, The Allium was facing some other challenges. While everyone had been committed to the idea of a flat pay scale at the beginning, discontent around the concept was starting to surface. At the same time, the restaurant was having difficulty finding people who wanted to be members instead of merely workers after their probationary period. 
The restaurant set the initial buy-in at $5,000, which Blustein notes was a relatively small sum by industry standards. It also offered options for people who were still hard-pressed to provide that money up front, including sweat equity and payment plans. But all of this still couldn't convince enough people to join as members, something Blustein believes reflects bigger cultural issues.
"We live in a consumer-oriented culture that's focused on material possession and a culture of individualism," he says. "And so, when people are asked to forgo their immediate profit for collective gain, I think that's sometimes hard for us to understand or see what that looks like, or to know that actually, in the long run, it might be better. But in the short term we're giving up a little or feel like we're giving up a little bit, and so I think that also definitely played a big role in The Allium's decline."
The Allium also had to face the fact that while it might be operating as a worker co-op, it was still doing so within a capitalist system. While it tried to buy from small local suppliers instead of big corporations, the latter were always cheaper and inevitably ended up getting some of the restaurant's business. Its landlord was also largely primarily concerned with profit and had little sympathy when The Allium asked, for instance, for a pause on rent increases. But while an ordinary restaurant could deal with these challenges by cutting wages or relying exclusively on the big suppliers, The Allium's philosophy precluded it from doing so, which came at a significant cost.
"Every step we almost just shot ourselves in the foot financially," says Blustein, "because we were trying to be more equitable and that makes for a more stressful operational experience."
This stress played a major role in The Allium's eventual closure. Even as the pandemic was easing, Blustein and the other members were feeling burnt out. 
"We just all thought, if there's a slight chance that we can sell, and not only make all our money back, but maybe make the tiniest bit of money on the sale, then let's just do that," he says.
Looking back, Blustein allows that there were some mistakes along the way. While the idea of equal compensation was an appealing concept, he now recognizes that members who brought unique skills or experience to the table should have been rewarded accordingly. He also believes the restaurant shouldn't have allowed prospective members to carry on as workers after their probationary period unless they became members. But taking all that into consideration, he still says he would encourage others who are contemplating forming a worker co-op restaurant to do so.
"I am really proud of The Allium," he says. "Despite its closing down last month, I do think we did have a small impact in the city, and I think we helped to demonstrate worker ownership to a degree. Things don't always work out perfectly, but that's the point of trying; I don't think that failure in whatever form is a bad thing. I think that we learn, we grow, and we move on. And we build from these experiences."