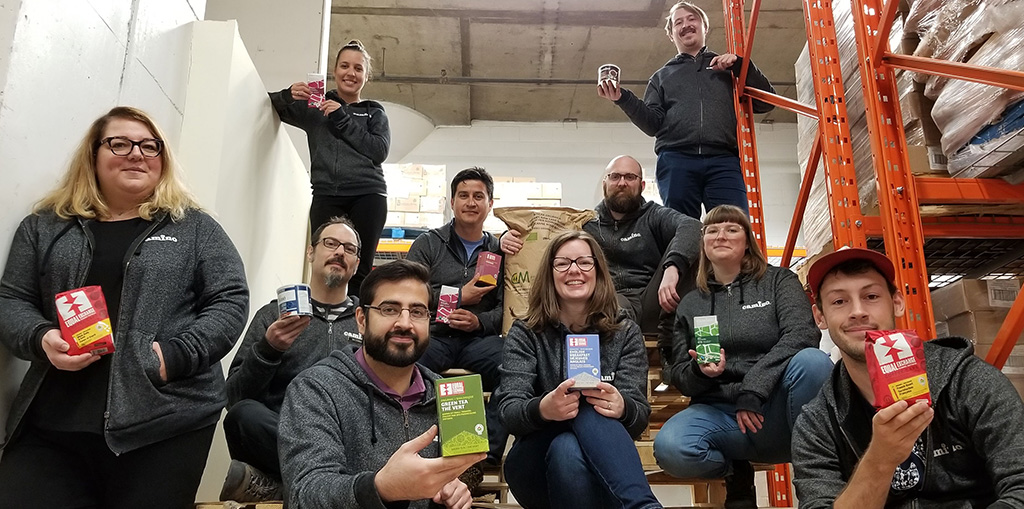 By Kenzie Love and Tim Hanlon-Wilde
From its humble beginnings in the community kitchen of an Ottawa church to its current location in a 10,000 square foot warehouse, La Siembra has come a long way over the past 20 years. As it marks the two decades since its founding in 1999, the co-op faces its share of challenges but also has much to celebrate.

Established by three young entrepreneurs who'd worked overseas, the co-op reflected its founders' desire for an alternative to the exploitative nature of trade on the lives of many family farmers. Inspired by the organizational structure of these farms, La Siembra decided to replicate it by incorporating as a worker co-operative, selling cocoa-based products and sugar under the Camino brand name.

As there was no fair trade certification system for cocoa-based products at that time, La Siembra's founders adopted the guidelines of the Fair Trade Foundation. In 2002, La Siembra worked with Fairtrade Canada (then Transfair Canada) to develop a certification system for cocoa, chocolate and sugar products in Canada and became the first registered importers of Fairtrade certified cocoa and sugar in North America.

Today, the Camino line includes a wide array of goods, including various chocolate bars, the Camino Cuisine line of baking products and a range of industrial-sized premium ingredients.  Because of its commitment to improving the livelihoods of family farmers and supporting rural economic development in the global south, the co-op has won numerous awards for its work and products, from organizations including CWCF, Fairtrade Canada, and WorldBlu.

Kelly Storie, La Siembra's co-executive director, describes her work for the co-op as a "dream job".

"There's not very many jobs that you can work at that are promoting democracy and social inclusion not just here in our community but abroad," she says.

The growth of the fair trade industry in Canada has mirrored that of La Siembra itself, with over 200 businesses registered with Fairtrade Canada at the end of 2017, 20 years after that organization's founding. But the growing popularity of fair trade products, says Storie, has also prompted some corporations to try and "co-opt" these producers' values without necessarily sharing their commitment to them. It can thus be a struggle, she acknowledges, to sell something that is as much about the process as the product.

"We have to compete in a really competitive space," she says. "It is really difficult for us to differentiate about what makes us unique."

That said, Storie feels fortunate that La Siembra is part of larger networks such as CWCF. The support the federation offered in La Siembra's early years through its Tenacity Works fund was invaluable, she says, and now as a comparatively large worker co-op, La Siembra can help nurture other, smaller ones.

"It's nice to feel we're part of something bigger, and not just doing this all ourselves," she says, adding that "we have a group of people we're connected to who understand our struggles".

Storie believes, however, that La Siembra can endure these struggles provided it retains the commitment to sustainability that has guided it from the start.

"We are really lucky to be able to invest and steward through this period," she says, "but we do need to leave something behind for future members".