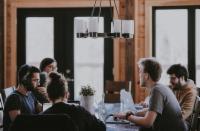 Have you ever wondered why meetings can some times wander off in all directions?
Why discussions on important issues can just keep going in circles and never seem to get resolved?
This webinar, which takes place from noon – 1 p.m. EDT June 5 and June 11, will give you some insights into how we think and process information, then present some models that can be used to keep discussions on track and arrive at decisions that can be supported by the whole group.
In first one hour sessions we will:
Have a discussion on human cognitive processes and how they affect our conversations and decision making,
Introduce a tool for planning focused questions to plan the conversations and have an opportunity to practice the model between sessions.
In the second session we will:
Discuss the use of the focus question planning tool which was practiced between sessions,
Introduce and practice the second tool called ORID, Objective, Reflective, Interpretive and Decisional. This tool allows us to take a deep dive into how to plan the conversation, which allows all participants the chance to be part of the discussion and decisions.
The webinar will be presented by Rick Proven. Rick is an adult educator and worker cooperative member. After 32 years in the federal public service Rick retired from Parks Canada in 2010, and now works as a private consultant focusing on facilitation design and training (he's also a member of a worker cooperative, building energy efficient and net zero buildings). He held various positions such as human resource advisor, program manager, project coordinator, informal conflict management advisor and national trainer. Through continuous learning and application, Rick has become an effective facilitator and trainer, currently teaching a course on leading effective meetings at Red River College in Winnipeg.
Rick has used the methodology he'll outline in this webinar successfully in many past instances, including one where he brought together government, industry, and other groups to collaborate on an endangered species action plan in southwestern Saskatchewan.
"The methodology that I'm going to be presenting is kind of the true and tested one that I've always gone back to because it works," he says. "It helps guide human nature to have more successful conclusions in conversations or group work."
Register for the webinar here.
Cost is $20 for non-members, free for members. Email Communications and Member Services Manager Kaye Grant at mailto:communications@canadianworker.coop for the discount code.