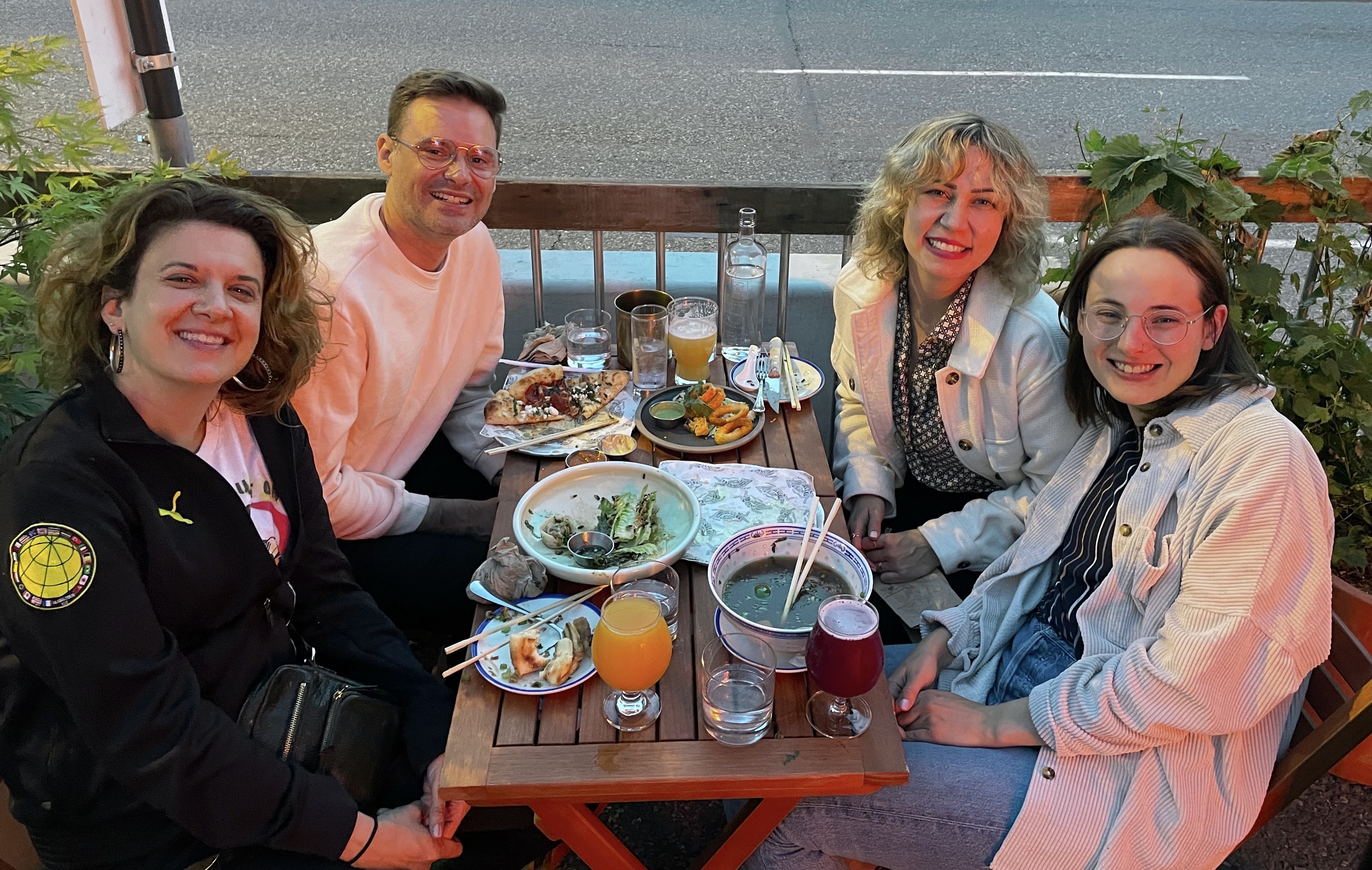 By Kenzie Love
If Louder Than Ten's founders had known about worker co-ops at the time of its inception, they probably would've incorporated as one. As it was, the Vancouver-based digital project management and operations training company was already operating under the spirit, if not the letter, of what it means to be a co-op from the beginning. Formalizing this was thus a relatively minor change — but one the founders are glad they made
"We've always been advocates for workers rights," says co-founder Travis Gertz. "And so this just seemed like the best way to put our money where our mouth is."
Originally started as a project to finance a road trip Gertz and his partner Rachel wanted to take around the U.S., Louder Than Ten began 13 years ago as a web design agency but morphed into a digital project management training company when it became clear there was a need in the industry for this kind of business. Gertz's experience of the creative and tech industries had revealed many people in management positions to be "benevolent dictators", something he was keen to avoid replicating.
"They'll give you all the office trappings and nice benefits," he says. "But you're still at the mercy of being fired in an instant, or you're set when it comes to salaries. You don't get a say in what happens there, or the work you do. And so it's very surface level. And so we just recognized that early on and wanted to do something that actually meant something, in that for us it meant ownership and an actual say in policy."
In the period since Louder Than Ten's conversion began a couple of years ago, Gertz believes all of its four members now feel the sense of ownership the conversion to a worker co-op aimed to instill. 
"They are more engaged, more interested in learning about, for instance, the finances of the company, how we're doing and how they can help if things are slow or we need to shift directions," he says. "It feels like a more level playing field."
Gertz credits the experienced co-op developers Louder Than Ten worked with for enabling a smooth transition to the worker co-op model. Many of the challenges the Co-op faces, he believes, are due more to it being a small business than to its status as a co-op, and to this end he advises other small co-ops to ensure they have a handle on their business operations like finances to be successful.
"Learning how money works is really important," he says. "That isn't intuitive, necessarily, and so for us, learning open book management was a big part of it, and just educating the team on how money moves through the company. And what the financial impacts are on saving things versus bringing more money into the Co-op. Those are all big, important conversations to have that aren't always obvious."
Louder Than Ten hopes to grow its membership in the coming years. It also wants to work more closely with other worker co-ops. But whomever it's working with, it plans to continue bringing the co-operative ethos to all its operations.
"Our specialty is bringing teams together and helping them work together democratically in a way that keeps everything on time, on budget and keeps relationships happy," Gertz says.