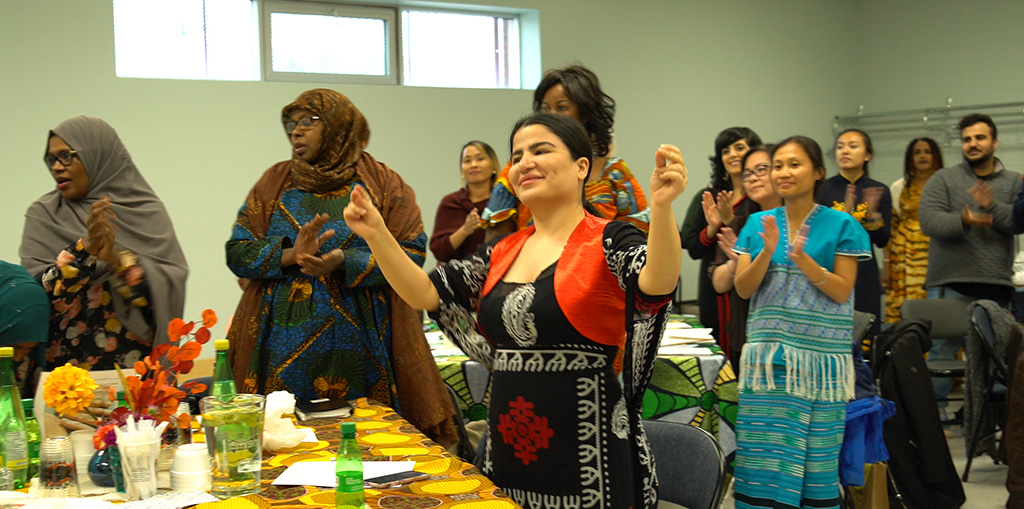 By Kenzie Love
From humble beginnings as a pilot project focused on expecting parents in Edmonton's Chinese immigrant community, Multicultural Health Brokers Cooperative (MCHB) has grown to a worker co-operative of 100 workers serving members of all ages from 30 different ethnolinguistic communities. Yvonne Chiu, the co-op's executive director, has been with MCHB for this entire journey, and while she acknowledges the work has been challenging, she remains convinced of its importance.
"I am very proud and excited about what we've accomplished," she says.
Chiu's relationship with MCHB began as a member of Edmonton's public health department, conducting participatory action research that led to the training of a group of women from six immigrant communities working as childbirth educators. Aware of a gap in this area with Chinese and other immigrant communities, the women had decided to try and close it by serving as brokers between the families and the health care system.While they focused initially on perinatal health, they ultimately decided to take a truly holistic approach, focusing on community development that leads to building mutual support groups so families could be connected to help each other, and system advocacy.
As this work unfolded, Chiu decided to leave public health and join the women who were working to fill this role, and ultimately supported them in creating the worker co-op in 1998. As time went by, the co-op expanded considerably, adding a focus on youth and seniors, increasing the number of immigrant communities it served, and focusing on social, economic, and language barriers the communities face as well as health issues. The co-op's current services include everything from intercultural early learning to a multicultural seniors outreach program, and Chiu says this holistic approach is key to MCHB's work.
"As long as we've been working together we always look at the ecology, the social ecology of our population," she says, "which helped us actually innovate in many ways, because we really see what's needed, where are the gaps, how do systems relate to our communities, and how does the rest of Edmonton relate to our population."
Being a worker co-op has also been central to MCHB's mission, says Chiu, allowing that this hasn't always been easy. In addition to limited mutual awareness and understanding between many immigrant communities and government & mainstream service providers, she's found there's still a widespread lack of understanding around worker co-ops, although she says belonging to CWCF has helped with this. Nonetheless, she encourages members of other worker co-ops to stay true to the movement's values as the members of MCHB have strived to do in spite of the inevitable obstacles.
"Because most of us grew up and worked in systems that were non-egalitarian, it's really difficult," she says, "there's so much temptation to drift away from being a co-operative or a workers' co-op. So really try to bring alive everyday those key principles and be conscious of the temptations to deviate from social justice, from the democratic structure and commitment to accountability to the community."