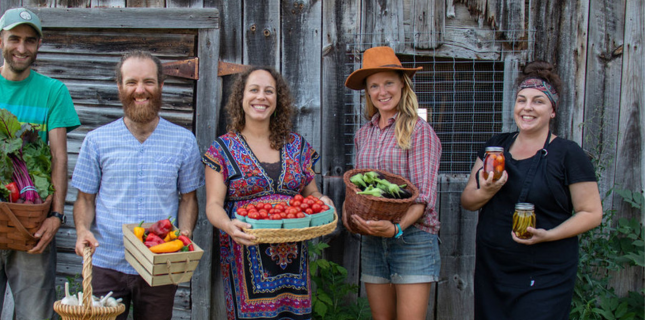 By Kenzie Love
BeetBox Farm  is a worker co-op that places community at the heart of its operations. Established in 2017 near Nepean, Ontario,  its founders were driven by a desire to grow healthy food they could share with people in the surrounding area, primarily through their Community Supported Agriculture program. The BeetBox program allows participants to receive a weekly or biweekly box of fresh vegetables over the summer growing season, along with tips on using the produce, access to a members' only Facebook group, and other perks.
For those who want to get involved on a deeper level, the co-op also runs a Community Farm project, in which volunteers sign-up for one shift a week during the growing season, receiving fresh veggies in exchange for their help weeding, harvesting, and generally maintaining the farm. BeetBox's Janice Ashworth has found the project, which offers participants fresh air, exercise, and the chance to connect with others as well as a share of the harvest, the most rewarding part of her work with BeetBox.
"I think it's really fun to involve people who are new to gardening in the process of growing your own food," she says. "There's a great social component, there's definitely an educational component, we had a lot of success, we grew a lot of great crops and learned a lot together."
The members of BeetBox have done some learning on their own in recent years as well, including how to deal with the departure of some of the original members. The co-op was able to navigate the challenges arising from this, however, with the help of a Technical Assistance grant from CWCF, enabling them to hire consultant Russ Christianson. Christianson's help was invaluable, Ashworth says, both in dealing with issues around the departure of some of the founders, and in laying the groundwork for their replacements.
"He was helpful from the business planning point of view and also the relationship side," she says. "He also helped us develop a member agreement and a member handbook to help existing and new members who might join to understand what it is they might expect and help them see the beauty of or benefit of a co-op and structures for governance and HR and decision making that will be useful going forward for all members."
A successful worker co-op depends on strong relationships between its members, Ashworth notes, something that is even more critical for a co-op farm, where members not only work together but live together on the land. Her experience with BeetBox in this respect prompts her to advise fledgling worker co-ops to devote attention to the human aspect of their work before plunging in too deep.
"I think it's important to both test out and build your relationships, have a solid grounding in your relationship before jumping into business together, have a trial period, do some bonding, do some relationship building, do some trust building," she says.
By strengthening the bonds both between its members and with those it serves, BeetBox fulfills its guiding philosophy of not only providing consistently fresh and high-quality food but fostering a growing community of good food lovers as well.