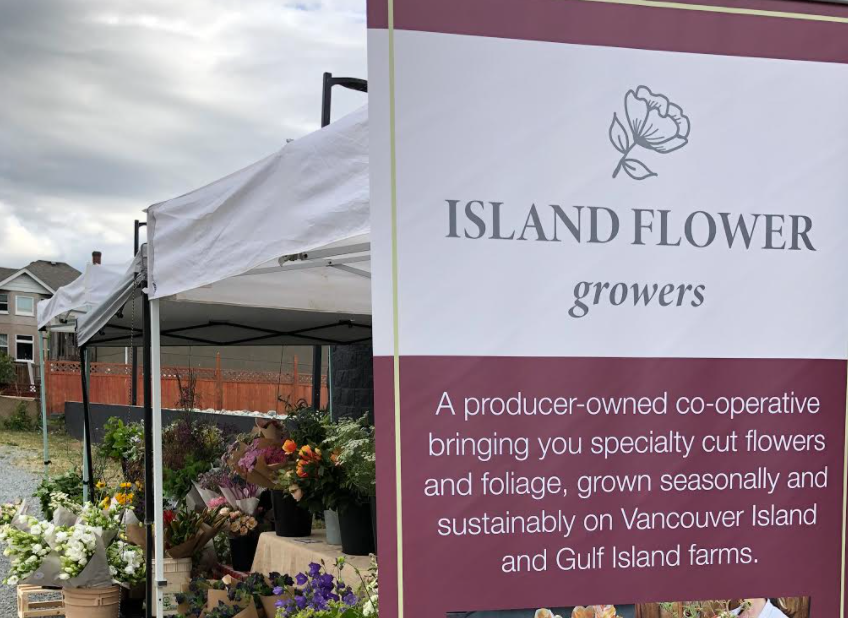 By Kenzie Love
Newly incorporated as a co-operative and looking forward to a busy spring and summer, Island Flower Growers Co-operative (IFGC) had its first market of the season scheduled for April 1, 2020. It wasn't intended as an April Fool's joke — although by the time that date rolled around, it was clear that the pandemic had necessitated a change in plans.
Fortunately, the group of small-scale flower farmers in the greater Victoria area was up to the challenge. With the venue they had rented for their market closed indefinitely, the Co-op's members switched to an exclusively online sales platform, accepting orders at the beginning of the week and then meeting in a school parking lot to divvy up and deliver the flowers. Looking back now, Co-op member Lorna Jackson acknowledges the process was more complicated and tiring than what they had envisioned, but that the Co-op was happy with the results.
"We had a very successful first year," she says, "although not what we had expected at all."
Established as a collective in 2019, Island Flower Growers converted to the co-op model after a consultation funded by BC's Ministry of Agriculture. The co-op model appealed to growers because of its values-based approach, reflected in the members' commitment to sustainable growing practices and being stewards of the land. They were also inspired by a longstanding grower-owned co-operative to the south, the Seattle Wholesaler Growers Market. And Jackson believes the worker co-op model IFGC has adopted, with its emphasis on education and training, will in turn serve as an inspiration for the younger generation of flower farmers.
"There is a whole bunch of new growers coming up and being encouraged by trends in the industry, and we really want to help them be successful," she says, "and the co-op was a structure that kind of insisted on that as well."
Adopting the worker co-op model also allowed IFGC to gain access to a technical assistance grant from CWCF. Working with the same consultant they'd retained through their earlier grant from the government, the Co-op was able to create a plan for the coming year that built on what went well in 2021 and addressed some of the governance aspects that hadn't gone as smoothly as hoped. Jackson says the grant was critical to IFGC's planning process, a challenge as it navigates the continuing uncertainty brought about by the pandemic.
"I just don't understand how any business would be able to go into their second year without that sort of support. And for us, we had a successful year but not a particularly profitable year, so we didn't have the funds to hire someone ourselves.  The funding was just a blessing for us."
Although the pandemic continues to pose a challenge, IFGC is planning for more business this year than last, with a goal of doubling its sales by increasing the quantity and variety of flowers it offers. And one thing there's no uncertainty about is that the worker co-op model was the right choice.
"Those policies and practices that a co-op offers, based on a shared set of values, were really appealing to us," Jackson says. "And I'm sure as we go along, there will be more benefits that become more obvious as we go forward."